12 Best & Fun Things To Do In Tampa (Florida) In 2022
With sunny weather and world-famous attractions, Tampa is one of Florida's top travel destinations. More than 100 million people visit it each year, and that number is expected to skyrocket in the next decade as the city builds even more hotels, casinos, and beachfront properties.
Are you planning a trip to Tampa? Wondering what to do when you get there? Maybe you need ideas, maps, guides, and travel tips for a great Florida vacation.
Well, you came to the right place. From historical museums to crazy water parks, here are the top 12 things to do in Tampa that you won't want to miss.
What Is The Best Time To Visit Tampa?
The best time to visit Florida for its outdoor attractions like the Everglades is during the summer months of June through August. These months are also the best time to see Florida beaches, such as South Beach and the Florida Keys.
Visitors to Key West will best enjoy a visit to the area between January and May. Visitors certainly cannot forget about its amazing theme parks like Disneyland and Universal Studios in Florida. Best to visit right after the Christmas break through February for great deals and fewer crowds.
12 Best & Fun Things To Do In Tampa (Florida):
1. Busch Gardens
Busch Gardens is a 335-hectare African-themed family amusement and adventure park with exciting games, live music, performances, and tons of exotic animals in the wild.
Visitors can go on safari to see animals grazing on the plains with replicas of African villages and camps. The Serengeti Night Safari is one of the most popular options.
Several particular animal encounters are available, including the opportunity to hand feed kangaroos and giraffes; watch park staff members care for their patients at the Animal Care Center; and get up close to some of the residents, including sloths and flamingos.
There are many exciting things to do in the park, including kiddie rides and water games, but Busch Gardens is best known for its roller coasters, an extreme thrill experience. Several Busch Gardens ticketing options include multi-park passes and packages that include dining in the park.
Address: 10165 North McKinley Drive, Tampa, Florida
2. Museum of Science and Industry
The Museum of Science and Industry invites visitors to discover, learn, imagine and immerse themselves in all aspects of science and technology.
Starting with the basic principles of physics, mathematics, and other scientific principles, the exhibits expand into several subject areas. Kids will love playing a giant "operation" game as they learn how the human body works and how technology helps people live longer and better lives.
The idea zone has practical projects, and the Connectus exhibit allows visitors to use the latest technology before unveiling it to the general public.
Other exhibits include the ability to interact with extreme weather and explore the model of NASA's vision for human life outside the ground.
The museum has many other things, including an exciting rope adventure course, life-size model Mercury spacecraft, and IMAX theater.
Address: 4801 E. Fowler Avenue, Tampa, Florida
3. Tampa Zoo at Lowry Park
Tampa Lowry Park Zoo offers more than 2,000 animals in natural habitats, including animals in Africa, Asia, Australia, indigenous Florida habitats, primates, and aviary.
There is also a large aquarium and three swimming pools used to treat local mandate, which is injured or sick. Guests can get closer to some residents of the zoo, including opportunities behind the scenes with pinworms and turtles, as well as the chance to feed the Indian rhinoceros.
Popular zoo residents include African elephants, African penguins, Florida panthers, and the Bornean orangutan. The park also has some rides, including an African habitat safari ride, a mini train, and a family-friendly roller coaster.
4. Henry B Plant Museum
Once belonging to the warehouse Henry magazine, some of the former Tampa Bay Hotel was converted into the Museum in 1933. This is a luxury Victorian palace with the characteristic Mauritanian features.
Henry B. The plant museum tracks the story of the hotel and plant contribution to the development of Tampa and Florida. Miscellaneous rooms, such as a great room, reading, and writing, are equipped with a garden property and insight into Henry B. Lifestyle.
Ovid Gardener, a bet, employed an outstanding landscape architect to design gardens known for beautiful tropical gardens. The rest of the building is now the University of Tampa.
5. Florida Aquarium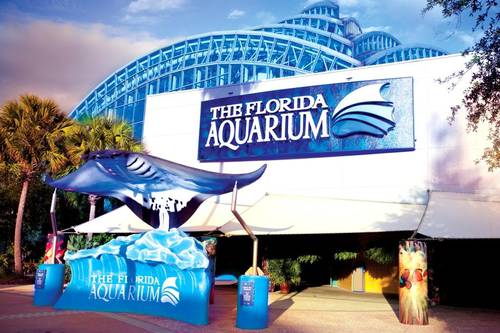 The Tampa Florida Aquarium has an interesting variety of habitats, exhibits, and actions to educate and entertain each age. Siedliska are organized carefully to represent the pool area similar to the Tampa area so that guests can see a wide range of fish and marine life.
Visitors have the opportunity to get involved with invertebrates like starfish and anemones and even visit some land-dwelling residents like lemurs.
Admission to the Florida Aquarium also includes the outdoor Splash Pad, where kids can cool off, as well as shows in the 4-D theater, where sensory elements are added to a 3-D movie for a completely immersive experience. For an extra charge.
Address: 701 Channelside Drive, Tampa, Florida
6. Big Cat Rescue
Big Cat Rescue is a wildlife sanctuary for abused and abandoned big cats. It is a non-profit organization home to more than 60 animals, including tigers, lions, leopards, servals, caracals, bobcats, jaguars, lynxes, and other species.
While at the sanctuary, visitors will learn about the care and rehabilitation of these animals. The rescue group's latest mission is to stop the big cat trade, resulting in many graceful cats living in dire conditions.
Unlike a zoo, tourists can only visit the sanctuary on a guided tour, which must be booked in advance, and booking well in advance is recommended due to its popularity. If you visit a child under ten years old, you must take the "Kids Tour."
Address: 12802 Easy Street, Tampa, Florida
7. Glazer Children's Museum
The Glazer Children's Museum focuses on providing children with a fully interactive experience so they can learn and discover through the game, using their imagination to bring many child-sized exhibits to life.
Kids can learn to save money and trade at the bank, slide down a fire pole on their way to save lives at the fire station, and try their hand at design and carpentry to spruce up an old house.
Prospective vets can monitor X-rays and plan patient treatment, and potential captains can navigate a shipping ship through a canal. In addition to many more adult jobs to explore, some exhibits explore robotics, engineering, oceanography, and world cultures.
Address: 110 W Gasparilla Plaza, Tampa, Florida
8. Tampa Theater
Built in 1926, the Tampa Theater is a luxurious movie palace featuring a unique blend of architectural styles, including the Italian Renaissance, Byzantine Renaissance, and Greek.
It regularly features foreign and classic films along with specialty concerts and other programs. While you can watch new and old movies here, watching one of the classics in this building is a great way to make you feel like you've stepped back into another period.
Address: 711 Franklin Street, Tampa, Florida
9. Tampa Electric Manatee Viewing Center at Apollo Beach
Although it may seem like a strange place, this manatee sanctuary is located in front of a Tampa power plant. Manatee is attracted to the warm water produced by the power plant and can sometimes be seen in large numbers.
They are most prevalent when surrounding water temperatures are cold, dipping below 68 degrees Fahrenheit. Visitors will find a tidal walkway displaying various Florida plants and birds, butterfly gardens, and an observation deck for manatees. The Manatee Viewing Center also houses an educational building featuring the power plant and manatees.
Address: 6990 Dickman Road, Tampa, Florida
10. Tampa Bay History Center
Exhibits at the Tampa Bay History Center trace the rich history of the Tampa Bay area dating back 12,000 years. The region's first inhabitants, such as the Seminoles, the multicultural influences of the last five centuries, the era of railways and shipping, and regional geography are the highlights of the Tampa Bay History Center.
In addition to the permanent collection, the center houses a temporary gallery with changing exhibits. This is a 60,000 square foot glass front facility located in the Channelside borough.
Address: 801 Old Water Street, Tampa, Florida
11. Ybor City
Tampa's Hispanic Community Center, Ybor City, is a National Historic District. The name comes from its founder, the cigar baron Vicente Martinez Ybor. He arrived in the region in the mid-1880s after workers at his Key West factory threatened unions.
At one time, the Ybor cigar factory was the largest globally, with over 4,000 people selling over 900,000 cigars a month by hand. However, the Great Depression and machine struggle ended the boom, and most factories were closed and demolished.
In recent years, the area has revived and is home to many shops, galleries, restaurants, and cafes. Seventh Avenue in Ybor City, known in Spanish as "La Septima."
Ciudad de Ybor Restaurante Columbia is the country's oldest and largest Spanish restaurant. This historic institution was founded in 1905 by Cuban immigrant Casimiro Hernández, a senior Columbia famous for its Spanish cuisine, restaurants, and old-world charm. Live entertainment includes flamenco and jazz in the cafe.
12. Sunshine Skyway
Sunshine Skyway is a toll bridge located at I 275 / US 19. This multi-lane "stilt road" is 12 miles long and curves gracefully through the entrance to Tampa Bay.
Its most impressive feature is a 4.25 mile long elevated bridge, the central section of which is suspended from two gigantic towers, allowing large ocean vessels to pass underneath. The previous bridge was hit by a cargo ship in 1980 and partially collapsed, and parts of the old bridge now serve as docks for fishers.
From the path over the new bridge, there are beautiful views over the ocean, and the bridge itself is also an awe-inspiring sight and often photographed by tourists.
Where to stay in Tampa for sightseeing?
There are several great places to stay in Tampa, depending on the reason for your visit. Staying in the city center is a good option for sightseeing and entertainment. You might want to stay closer to Busch Gardens if it's the main reason for your visit or close to the stadium if you are coming to watch a football game. Below are some of the best hotels in these main areas.
Luxury Hotels: In a prime city center location, Le Meridien is a premier hotel in what was once a federal court and is now listed on the National Register of Historic Places. The contemporary Epicurean Hotel is a bit out of the way of downtown action but in a nice neighborhood. If you're coming to Tampa to see a game, the Renaissance, near Raymond James Stadium, is a great option.
Mid-Range Hotels: In the heart of the city is the Tampa Marriott Waterside Hotel and Marina, overlooking the ocean; nice outside patio areas; and large and comfortable rooms. In the same category is the Sheraton Tampa Riverwalk, also with a good location and panoramic views.
Both have swimming pools and are conveniently located for visiting Ybor City or the Florida Aquarium. In a fabulous location in Ybor's, The historic district is the Hilton Garden Inn, with an outdoor pool and hot tub. Holiday Inn Hotel and Suites Tampa N, close to Busch Gardens, is good? The choice for families.
Budget Hotels: Only a short distance from Ybor City is the Quality Inn and Suites, in a great location for this price range. Near Raymond James Stadium is the reasonably priced Comfort Suites. Also good value for money and close to the stadium is the Clarion. They are both a bit out of the way of the city center, but a reasonable distance if you have a vehicle and are perfectly located if you come to see a game.
Frequently Asked Questions: Things To Do In Tampa
What is Tampa best known for?
The city of Tampa, situated on an inlet reaching far into the west coast of Florida, is the economic center of western Florida. Tampa is best known for its tourist attractions, especially Busch Gardens, where families get the thrill of an amusement park and the fun of a zoo all in one place.
Is Tampa a boring city?
Tampa is really, rather boring. The cost of living is moderately low but wages are also low. The weather is nice during fall, winter and spring, but horrendously, horridly hot and unbearably muggy during the summer.
How fun is Tampa Florida?
Tampa was ranked No.12 in entertainment and recreation, which included data such as number of attractions, public beaches per capita, and of course ideal weather. For a full list including where other Florida cities ranked click here.
Is Tampa expensive?
Tampa's housing expenses are 23% lower than the national average and the utility prices are 16% higher than the national average. Transportation expenses like bus fares and gas prices are 6% higher than the national average. Tampa has grocery prices that are about the same as the national average.
Is downtown Tampa safe at night?
Re: Is the area around the Hilton Tampa Downtown safe at night? It is safe.You can ask the concierge for recs. A few pubs/bars right around the corner and Harbor Island has a few restaurants too.
Does Tampa have a beach?
Visitors to Tampa have hit the beach lottery. From downtown Tampa you are about a half hour's drive of not one, not two, but a dozen of the most beautiful stretches of sand in the world. All the beaches feature soft, white sand and the warm, calm waters of the Gulf of Mexico.
Why living in Florida is bad?
Hurricanes and extreme heat and humidity have an impact. The state is extremely flat, lacking mountains and valleys. There are more tourists and part-time residents than other states. You'll be paying higher insurance costs than other parts of the country.
Should I move Tampa or Orlando?
Tampa seems to have a cultural edge on Orlando, however. Orlando is new, very touristy, a lot more transients, the economy is based on tourism and the service industry. There is a lot of growth and sprawl. If your top priority is being close to beaches, Tampa is probably better – because many prefer the Gulf beaches.
How safe is Tampa Florida?
The chance of becoming a victim of either violent or property crime in Tampa is 1 in 46. Based on FBI crime data, Tampa is not one of the safest communities in America. Relative to Florida, Tampa has a crime rate that is higher than 60% of the state's cities and towns of all sizes.
How big is downtown Tampa?
521 acresDescription. Downtown Tampa is bounded by the Hillsborough River to the west, Channelside to the east, Interstate 275 to the north, Davis Islands and Harbour Island to the south. The total area for the area is 521 acres (2.11 km2).
Related Searches:
Things To Do In Tampa For Adults
Things To Do In Tampa For Couples
Things To Do In Tampa Today
Things To Do In Tampa This Weekend
Unique Things To Do In Tampa
Things To Do In Tampa Covid
Things To Do In Tampa In The Morning
15 Top-Rated Beaches In North Carolina: Best Time To Visit
15 Best Things To Do in Maine: Top-Rated Tourist Attractions In 2022
12 Best Things To Do In Oklahoma City: Top-Rated Attractions In 2022
10 Best Things To Do In Puerto Rico: Top Rated Attractions