12 Best Things to Do in Albuquerque, New Mexico In 2022
Although often overlooked in favor of Santa Fe, the largest city in the state, Albuquerque is worth a visit for its many magnificent museums and an attractive old town filled with historic adobe buildings.
With a delightful mix of Spanish and Native American influences, it has a rich history and heritage to dig into, with countless art galleries and cultural tourist attractions found throughout the city.
Located near the center of New Mexico, this sprawling city occupies the Rio Grande Valley, with the mighty Sandia Mountains in the distance. Being close to so much stunning scenery, there is plenty to do in Albuquerque outdoors, with popular hiking and mountain biking.
One of the best moments to visit is in October when the International Balloon Fiesta Albuquerque takes place, and the light blue sky of the city is dotted with hundreds of hot air balloons.
When to go to Albuquerque: Weather And Temperatures
Albuquerque has a pretty particular climate. In part, it is desert, but at the same time, it is also continental (dry). This means that there is a tremendous thermal amplitude throughout the year and also between day and night.
In January, the coldest month, the maximum temperatures are around 10 ° C. Still, at night, the thermometer almost always drops below 0 ° C. Think that the average of the maximums in March is 18 ° C, while the minimums are only 2 ° C.
Summers have sweltering days, and I dare say hot. But it always refreshes in the afternoon, and the temperature drops below 20ºC. The rains are always scarce, but they increase in summer: July and August are the rainiest months of the year, with an average of 5 days/month.
If I had to indicate a good time to visit the city, I would say September and October (when I was there, from 6 to 14, the Albuquerque International Balloon Festival was celebrated). Another reasonable period is April-May.
1. Old City
The most popular place to visit in the city is the old town of Albuquerque, which is the original place where the Spanish settled in the 1700s. It covers about ten blocks and has several attractive adobe buildings and many landmarks of historical interest and museums to visit.
Around its central plaza are countless art galleries and shops selling souvenirs from the Southwest and Native American artwork, as well as the century-old church of San Felipe de Neri. Its cobbled streets are also home to great restaurants and bars, while talented street performers give the area a lively atmosphere. Additionally, many of Albuquerque's top tourist attractions and museums are located in or around Old Town.
2. Sandia Peak Tram
The towering Sandia Mountains, located in the city's northeast corner, rise dramatically above Albuquerque and the Rio Grande Valley. To reach the top of these 3,163-meter-high mountains, visitors can take an unforgettable ride on the Sandia Peak Tram, which is the longest aerial tram in America.
From the desert floor, it only takes fifteen minutes to climb to the top of Sandia Crest, with religious views of the Country of Enchantment offered both from the cable car and the top of the mountain. At the top, you will find souvenir shops, a sky bar, and a restaurant, as well as countless hiking trails. In addition to enjoying simply spectacular sunsets, in the winter months, you can ski wonderfully.
3. Cultural Center of the Indian People
The Cultural Center of the Indian Peoples is a must-see in the city, as it preserves and promotes the rich history, culture, art, and traditions of the indigenous peoples. Owned and managed by the nineteen towns of New Mexico, its countless exhibitions and events offer an exciting glimpse into its past and present.
Founded in 1976, the cultural center now occupies a modern location just a short drive north of the old town. Here you will find an art gallery, gift shop, and museum that houses exquisite art, artifacts, and informative exhibits about its history and culture. In addition, the center hosts numerous cultural events, conferences, and workshops throughout the year, its traditional dances and performances being prevalent.
4. ABQ BioPark
Hosting not only an aquarium and botanical gardens but also a zoo, it's no wonder ABQ BioPark is one of the city's top attractions. This largely open-air environmental museum also encompasses the Tingley Beach Recreation Area, with pretty trails, ponds, and picnic areas.
After exploring its beautiful botanical garden, dotted with desert plants and flowers, you can head to its excellent aquarium. Also, in this case, it focuses on the local species that can be found in the Rio Grande and the marshes of the Gulf of Mexico. The highlight, without a doubt, is the park's zoo, which is home to everything from elephants and gorillas to lions and polar bears.
5. International American Museum of the Rattlesnake
The International American Rattlesnake Museum, dedicated to conserving elusive snakes, is an exciting and educational place to visit. In addition to snake-related artwork, artifacts, and exhibits, it features the world's most extensive collection of different species of live rattlesnakes.
Located in Old Town Albuquerque, this small animal conservation museum is home to more than thirty types of rattlesnakes, which reside in an adequately recreated natural habitat. Through exhibits and demonstrations, visitors can learn about each species and hopefully cure any fear or phobia they may have of these cold-blooded creatures. The museum is also home to a Gila monster – the giant lizard in America – and has a gift shop that sells all kinds of snake-themed souvenirs.
6. Albuquerque International Balloon Fiesta
Every October, thousands of people from around the world flock to the city to see and participate in the incredible Albuquerque International Balloon Fiesta. More than five hundred hot air balloons slowly rise into the clear blue sky throughout its nine days, making it the largest festival of its kind in the world.
What began in 1972 with just a few balloons has become Albuquerque's most famous and most photographed event. Seeing the sky full of balloons of different colors, shapes and designs is an incredible experience, with Mass Ascension being its main act. You can also go up in a hot air balloon yourself and enjoy beautiful views of the city and the other balloons around you.
7. Albuquerque Museum
The excellent Albuquerque Museum offers a fascinating insight into the history, culture, and heritage of the city and the Southwest. Also located in the old town, its growing collection includes everything from art installations and interactive exhibits to artifacts and archaeological finds, with an outdoor sculpture garden.
Since its founding in 1967, the museum has educated countless generations in the history and art of the region. Along with early maps and armor from the conquerors, you can also find artwork by Georgia O'Keeffe, among others, and historic wood carvings and textiles from Native American peoples.
In addition, it regularly hosts temporary exhibitions and cultural events and organizes visits to the historic Casa San Isidro, which allows visitors to learn about Spanish colonial life.
8. Turquoise Museum
The magnificent Turquoise Museum is just a stone's throw from the city center, which can teach you everything there is to know about this brilliant gem. As well as delving into the history of turquoise mining and crafts, it has plenty of exciting works of art, jewelry, and sparkling specimens to peruse, all made from the colorful gemstone.
Although the museum opened in 1993, the Lowry family has been dedicated and passionate about this precious blue and green mineral for generations. During the visits, you will learn about its history of extraction and study of turquoise, how the mineral is made, and the myths and uses of the gem worldwide. It also has a great gift shop where you can buy jewelry and souvenirs.
9. Museum of Natural History and Science of New Mexico
Located at the eastern end of Old Town is another of the city's top attractions: the New Mexico Museum of Natural History and Science. Through interactive exhibits and spectacular displays full of dinosaurs, you will explore more than twelve billion years of natural history, beginning with the birth of the universe.
After learning about these early origins, you will be able to witness the dawn of the dinosaurs, experience the ice age on Earth, and see skeletons, fossils, and paleontological finds up close. Since its opening in 1986, the museum has been a favorite with locals and tourists alike for its well-presented galleries and hands-on activities. In addition, it houses a fantastic Planetarium and a 3D cinema that shows educational and entertaining films.
10. Casa Rondena Winery
On the northern outskirts of Albuquerque is the Casa Rondena Winery, which features exquisite award-winning wines that you can sample in its tasting room. The attractive estate also acts as a center for the arts in the area, hosting several cultural events and festivals throughout the year.
Founded in 1995 by John Calvin, this family-owned winery showcases beautiful architecture with a stunning Tricentennial bell tower set amidst its magnificent grounds and fertile vineyards. In its tasting room, you can taste some of its exquisite wines, accompanied by tasty cheese boards, cookies, and chocolates. In addition to the Rodina Music Festival held annually, this beautiful property regularly hosts weddings, concerts, and special events.
11. Church of San Felipe de Neri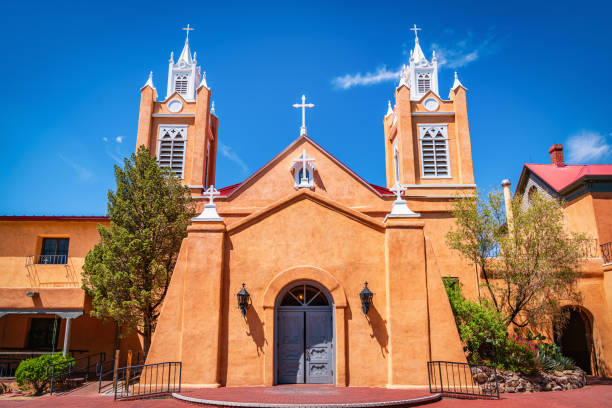 Just a minute's walk from the museum is the impressive church of San Felipe de Neri, which occupies the north side of the old town square. It is one of the oldest surviving structures in the city, built-in in 1793 during the Spanish colonial period, and has been in continuous use ever since.
Boasting a magnificent mix of architectural influences, the century-old church features two twin bell towers towering over its thick earth-colored adobe walls. Inside, the gothic-style decorations, such as the white-painted wood-carved altar and pulpit, give it a more European look. The charming church is adjacent to a former rectory, a convent, and a school, while some magnificent religious objects and artifacts are displayed in its small museum.
12. National Monument of the Petroglyphs
Just west of the city is the phenomenal Petroglyph National Monument, on the other side of the Rio Grande. Although it has landscapes carved out of lava and volcanic cones to explore, this sprawling place is best known for its captivating collection of carved images, numbering more than 24,000.
These fantastic figures, symbols, and signs, mostly well preserved, were engraved in the volcanic rock by ancestral peoples and the first Spanish settlers. The oldest ones date from about 3,000 years ago and are found in large groups around the Boca Negra Canyon and Piedras Marcadas. In addition, the many trails of the monument will take you through a splendid landscape and impressive viewpoints.
Frequently Asked Questions: Best Things To Do In Albuquerque
What is Albuquerque best known for?
Albuquerque is known throughout the nation for its Christmas decorations. There are many museums to visit, including the Maxwell Museum of Anthropology, National Atomic Museum, Albuquerque Museum, University of New Mexico Fine Art Museum, Indian Pueblo Cultural Center, and the New Mexico Museum of Natural History.
Is Albuquerque worth seeing?
Albuquerque's Spanish-settled Old Town is the city's historic and cultural heart. Centuries-old adobe buildings now house local restaurants, and art galleries and shops surround a tree-shaded, grassy plaza that sees festivals, music and dancing year-round.
Is Santa Fe or Albuquerque better?
I would not consider Santa Fe a 'better' city than Albuquerque… each city has its virtues. Santa Fe is a more beautiful city in the southwestern tradition. Albuquerque is a more affordable option both for residents and travellers (Check out my post on things to do in Historic Old Town Albuquerque).
What is unique about Albuquerque?
At an elevation of 5314 feet above sea level, Albuquerque is the highest metropolitan city in the US. Sandia Peak Tramway runs from the base of the Sandia Mountains to their summit called Sandia Peak. It is the longest aerial tramway in North America spanning 2.7 miles.
What is Albuquerque known for food?
Albuquerque dining is best known for its unique local cuisine—blending Native American and Spanish flavours-and preparations with our signature ingredients: red and green chiles. The smoke-kissed flavour of freshly roasted green chiles and the earthy fruitiness of red chile sauce is the backbone of New Mexican cooking.
Is downtown Albuquerque safe?
Is Downtown Albuquerque safe? Downtown Albuquerque is one of the safest parts of the city, although many residents advise steering clear of Central Avenue. To encourage tourism, Downtown Albuquerque is being revitalized, and the area is quite an attractive place.
What is the best time of year to visit Albuquerque?
The best time to visit Albuquerque is from September to November. The fall season sees pleasantly warm temperatures (ideal for a stroll on the Paseo del Bosque Trail) and many a party as the festival season goes into full swing.
Related Searches:
Things To Do In Albuquerque This Weekend
Things To Do In New Mexico This Weekend
Things To Do In Downtown Albuquerque
Fun Things To Do In Albuquerque For Adults
Free Things To Do In Albuquerque
Albuquerque Zoo
Things To Do In Albuquerque During Covid
Best Food In Albuquerque
15 Best Things to Do in Santa Fe, New Mexico In 2022
11 Best Things To Do In Aruba: Attractions & Activities 2022
Best Time To Visit London: Weather Temperature & Season 2022