15 Best Things to Do in Miami Beach, Florida
Nestled on natural and artificial islands between the Atlantic Ocean and Biscayne Bay, Miami Beach is Florida's trendiest vacation destination and largely the wealthiest realm.
Miami Beach was incorporated in 1915 and is close to some of the most visited sites in the state, including Everglades National Park, Big Cypress National Reserve, and the Florida Keys.
Miami and Miami Beach are particularly famous for their nightclubs, fine dining, and endless stretches of white-sand beaches. The cities boast impressive art-deco architecture and an exciting and diverse mix of cultures.
1. South Beach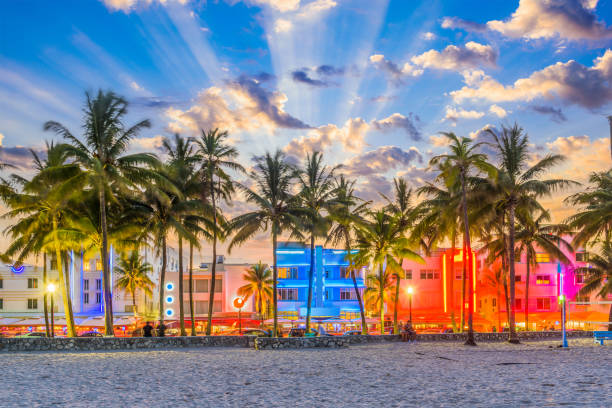 Often referred to as the American Riviera because it is the playground of the rich and famous, South Beach draws many visitors annually, and not all of them are high rollers.
Of course, you can stand out if you pack a fanny pack and a pair of Hush Puppies, but that doesn't mean you can't enjoy some of the best attractions in the area.
As the name implies, South Beach is known for its stunning beaches, but it is also lined with historic art-deco buildings that are best viewed with a tour.
The food scene in South Beach is famous for its international influences; Although many restaurants are prohibitively expensive, there are also reasonably priced options.
2. Miami Children's Museum
Located on one of the smaller islands between South Beach and the city, the Miami Children's Museum is a family-friendly oasis in the middle of a town that is mainly filled with adult-only entertainment.
With a host of educational exhibits, the museum's highlights include a mock castle, giant piggy bank, and music production studio, all of which encourage children to play and interact.
Although the museum is great to visit, it is beautiful when the South Florida climate is not conducive to outdoor activities.
The museum is rumored to offer one free night a month; Although you'll save on the cost of admission, you'll likely have to compete with hordes of other cost-conscious families.
3. Ocean Drive
Ocean Drive is well worth a visit for lovers of architecture, especially iconic shapes and sleek lines standard in the art-deco movement.
Many of the hotels and restaurants are out of financial reach for the average citizen, but it is still possible to visit the scenic area and get a taste of its history and culture. Doing it as part of a guided tour is convenient and relatively inexpensive.
You'll appreciate historical and architectural insight from your local guide and may discover some affordable and relatively unknown gems along the way.
4. Museum and gardens of Vizcaya
Located in quiet Coconut Grove, Vizcaya Museum and Gardens is not as well-known as Miami Beach's other attractions. Still, it packs a punch on the natural beauty and history departments and is worth a few hours of valuable vacation time.
Comprised of nearly 50 acres of professionally cultivated gardens, the grounds also include a stunning Italian Renaissance villa with panoramic views of the nearby city and bay.
The idyllic location has an event calendar packed with activities, including yoga, live entertainment, and craft shows. Check their website for directions, hours, and the cost of admission.
5. Spanish Monastery
South Florida is home to the longest continuously inhabited settlement in the country, and it was Spanish merchants and monks who were among the first to explore and settle in the area.
With a fascinating history dating back more than seven centuries, the Monastery of San Bernardo de Clairvaux was initially built in Spain, but was purchased in the 1930s by American newspaper mogul William Randolph Hearst, who disarmed it, shipped it to Florida, and rebuilt it.
Consisting of tens of thousands of individual pieces, it was no small party, and it is a true South Florida treasure worth seeing. It is open every day and is surprisingly inexpensive.
6. Holocaust Memorial
Although it may seem out of place in a city full of glitz, vanity, and materialism, the South Beach Holocaust Memorial is a poignant local attraction that makes for an engaging and educational side trip.
Opened to the public in 1990, it includes some fantastic sculptures, architectural elements, and a serene meditation garden.
The site's most prominent sculpture captures the anguish and torment of the victims of death camps like Auschwitz and Buchenwald, and many visitors claim it was one of the most memorable things they experienced on their trip.
The site is free to visit, and guided tours are offered.
7. Phillip and Patricia Museum of Science
With hundreds of thousands of square feet of beautiful exhibits, displays, and activities, the Phillip and Patricia Museum of Science is the perfect place to spend a few hours of learning and fun in the morning or afternoon, especially for those traveling with children.
Spread across four buildings, the museum's most popular features include a massive aquarium containing half a million gallons of water that house a mind-boggling array of colorful sea creatures. A planetarium also offers guided tours of the cosmos and fantastic laser shows.
The museum also hosts one-of-a-kind sleepover events that include escorts, children's activities, and meals.
8. Wynwood Brewing Company
Like much of the rest of the country, South Florida has seen a beer renaissance in recent years, and the Wynwood Brewing Company was one of the area's pioneers.
Housed in an uncomplicated warehouse, Wynwood's claim of fame is not its location but its incredible array of high-quality craft beers available in various styles.
Many of the brewing company's offerings are available at local retailers but are best appreciated in the tavern. There is also food available; it's the perfect way to get out of the Florida sun for a few hours, sample some good beer, and support the local economy.
9. Deering Estate
Originally the Deering Estate was the winter vacation home of a wealthy family, and it is now a unique historical attraction that is open to the public.
Comprised of various buildings and an elevated boardwalk, the estate is mainly known for its Native American archaeological site dating back nearly 50,000 years. Everything is best experienced as part of a guided history and nature walk.
Along the way, visitors will learn about the Deering family and its historical significance, especially as it relates to the lives of the Native Americans who inhabited the area for millennia before Europeans colonized it.
10. Wynwood Walls
With a humble beginning, the Wynwood Walls started as a few commissioned murals, but over the years, it has blossomed to nearly 40, many of which were done by famous artists worldwide.
The murals frequently change to coincide with the annual Art Basel event. If you are lucky enough to be in the area before the show, you may see new artists working on their giant masterpieces.
Wynwood Walls is open year-round and free to visit. Still, relatively inexpensive one-hour guided tours are also available for those wishing to meet the piece's creators and their inspiration.
11. Fairchild Tropical Botanical Garden
With hundreds of sunny days a year, lots of rain, and a subtropical climate, South Florida is the perfect environment for growing various plants, trees, and flowers.
The Fairchild Tropical Botanical Garden is packed with a colorful variety. Of native and non-native species.
Comprised of nearly 90 acres, it is named after a world-renowned local botanist and features a museum and several different gardens that have been professionally cultivated.
Narrated trolley tours are available, and they also offer a variety of festivals and seasonal activities, including guest speakers, arts and crafts, and delicious food and drink.
12. Pérez Art Museum
Miami and Miami Beach are meccas for the contemporary art world, attracting artists, gallery owners, and collectors worldwide.
Located along picturesque Biscayne Bay, the Pérez Art Museum features one of the nation's leading collections of modern art in various media from some of the biggest names in the game.
It may all sound like a simple, hands-free place, but that's not the case at all; the museum has a variety of interactive exhibits and other programs designed specifically for children. The museum also has a gift shop and trendy restaurant on site with a view.
13. Little Havana
South Florida is known for its large Cuban population, many of whom came to the country as part of the Mariel boatlift in 1980.
Known for its Caribbean-inspired music, culture, and cuisine, Little Havana is one of the area's most distinctive neighborhoods, offering visitors a wide variety of shopping, dining, and sightseeing options.
Little Havana is also home to quite a few unique galleries. It has always been a hot fusion cuisine spot that features up-and-coming chefs famous for their contemporary twists on old Cuban classics. Consider enjoying a Cuban sandwich and espresso at a local hole-in-the-wall for a truly unique experience.
14. Everglades National Park
Comprised of more than a million acres of largely unspoiled forests, mangroves, and swamps, the Everglades are a natural treasure home to one of the most diverse ecosystems in the country and a host of iconic iconic iconic animals such as American alligators and crocodiles, Florida panthers. And a great variety of birds of prey and waders.
Everglades National Park is open to the public, and while it is possible to explore it on your own, many visitors opt for a guided tour.
Seeing it all by airboat is an exhilarating experience and will allow you to get up close to many fascinating inhabitants of the swamps.
15. Make Some Discos
No list of Miami Beach "things to do" worthwhile would exclude its world-famous clubs. The city's clubs are among the best known in the world. While it is true that they are primarily the realm of the young, the wealthy, and surprisingly attractive, there are also options for travelers with modest means.
Suppose you're lucky enough to be in the category above. In that case, clubs like Bleau Bar and STORY will make suitable matches, but if you'd instead not put up with long lines and outrageous snobbery, consider low-key clubs that offer nighttime tours that often include deals for dinners and drinks, which makes them a great value.
Frequently Asked Questions: Best Things to Do in Miami Beach
Which beach is popular in Miami?
South BeachIt's the spot where Art Deco architecture meets high-end modern design. It's the site of some of the city's best restaurants, coolest galleries, and most vibrant nightlife. More importantly, South Beach is the beach that all other Miami strands are compared to. After all, it's the most famous beach in Miami.
Why is Miami Beach so popular?
Miami Beach offers a variety that goes far beyond sun and sand, encompassing world-famous nightlife and world-renowned art galleries, first-class hotels and second-to-none dining, designer shopping and a unique architectural style that makes it one of the world's most visually distinctive regions.
Is South Beach worth visiting?
South Beach is the most well-known beach in Miami but if you want a more local and less touristy beach, I would recommend Soho Beach. As with all beaches in the world, you can enjoy various water sports and sunbathing but there is also a very good club at the northern end of the beach, the Soho Beach House.
Where is the clearest water in Miami?
Crandon Park Beach boasts some of the clearest waters Miami has to offer, thanks in part to a strict ban on floatation devices and its offshore sandbar – itself an idyllic place to bask like the Floridian lizard you are at heart.
Is Miami Beach safe at night?
Miami Beach is generally a safe city for visitors. However, as with most major tourist destinations, pickpocketing is the biggest concern, particularly during the chaotic nighttime and along busy Washington Street. Walk in groups at night and avoid any unfamiliar territory.
Is Miami Beach Water Blue?
On the beaches of Miami, the Atlantic Ocean merges with the Caribbean Sea, the sands turn soft and white and the waters lap the shore in shades of light blue to nearly clear aqua. The area offers more than a dozen beaches, all with their own vibe.
Related Searches:
Things To Do In Miami Beach For Adults
Things To Do In Miami Beach For Couples
Unique Things To Do In Miami Beach
Things To Do In South Beach Miami For Adults
Things To Do In Miami Beach Nightlife
Things To Do In Miami Beach Today
Things To Do In Miami Beach With Kids
Things To Do In South Beach Miami Nightlife
14 Best Restaurants In Boca Raton, Florida You Must Try In 2022
16 Top-Rated Resorts in Texas, USA: Best Time To Visit In 2022
12 Best Things To Do In Cincinnati (Ohio) In 2022
15 Top-Rated Beaches in Maryland: Best Time To Visit In 2022