12 Best Things To Do In Oklahoma City: Top-Rated Attractions In 2022
Oklahoma is at the cultural and geographic crossroads of the United States. With the verdant hills to the east and flat golden plains to the west, there are many lakes and rivers for visitors to enjoy.
Oklahoma's charm lies in its small towns, beautiful natural features, and an array of fascinating museums, wedding venues, romantic getaways, and historic sites.
Here are the best things to do in Oklahoma. Some attractions may be temporarily closed or require reservations. Some restaurants currently offer pickup only. Hours/availability may have changed.
1. Oklahoma City Museum of Art
The Oklahoma City Museum of Art is an Oklahoma City museum that features a variety of artistic styles in permanent exhibits and temporary exhibition spaces. The museum has one of the most impressive Chihuly glass collections in the world, including a 55-foot memorial tower in the atrium dedicated to Eleanor Blake Kirkpatrick.
The museum's theater shows films every week, including classic, foreign and independent films. The museum has self-guided and docent-led tours daily and a full-service restaurant on-site that serves lunch, dinner, and a weekend brunch, plus alcoholic beverages, coffee, and more.
415 Couch Drive, Oklahoma City, OK 73102
2. Philbrook Museum of Art
The Philbrook Museum of Art is an art museum and cultural center that has two properties in Tulsa. The main museum is housed in a 1920s Italian Renaissance villa that housed Oklahoma tanker Waite Phillips and his wife. The house itself is impressive, but the art collection is one of the best in the state.
The pieces cover European, American, modern and contemporary art and design as well as African, Asian and Native American genres and reflect the contributions of many well-known artists. The museum houses museum shop, event space, library, children's area and special space for exhibitions. The museum also has a satellite gallery in the arts district of downtown Tulsa Brady.
2727 S. Rockford Road, Tulsa, OK 74114
3. Armstrong Auditorium, Oklahoma
The Armstrong Auditorium is an impressive eight-story entertainment venue in Edmund. The audience is attracted by prestigious international tours such as the Russian National Ballet and the Vienna Children's Choir. The interior is extravagantly adorned with Swarovski Strass crystal chandeliers, a royal purple carpet, and a crystal chandelier used by the Shah of Iran to mark the 2500th anniversary of the Persian Empire.
The main auditorium can seat 823 people and offers thoughtful acoustics, extra legroom, and state-of-the-art audiovisual equipment. The audience is also home to the Armstrong International Cultural Foundation Performing Arts Series, which sponsors a variety of performances, including jazz, classical and folk music, theater, folk dance, ballet, and more.
14400 S Bryant Road B, Edmond, OK 73034
4. Activities Near Me: Chickasaw Cultural Center
The Chickasaw Cultural Center is an impressive center that celebrates the culture and heritage of the Chickasaw people. It also has an interactive exhibition center known as the Chikasha Poya Exhibit Center. The exhibitions include things such as a mosaic exhibition, historical exhibits, a ghost forest, and an interactive 360-degree ghost dance exhibition that invites visitors to participate.
The Aaholiitobli Garden of Honor is located on the site, which commemorates the leaders of the Chikasaw people, as well as notable elders and warriors. Laser-cut photos of each person introduced to the Chickasaw Nation Hall of Fame are displayed on walls that are connected by cobblestone walkways and surrounded by beautiful landscaping.
867 Charles Cooper Memorial Road, Sulphur, OK 73086
5. Will Rogers Memorial Museum
Will Rogers Memorial Museum is a Museum in Claremore dedicated to the life and career of the famous Rogers artists. The central element of the Museum is a well-known sculpture of Rogers by the artist Jo Davidson, which has Rogers Quote carved in his base.
The museum exhibition includes souvenirs, photos, manuscripts, speeches, and documentary documents. The Museum claims that they contain the entire Collection of Rogers. A theater on the spot shows movies involving Rogers, and Rogers's Final Place Rest is also located on the premises. A museum shop sells a selection of clothing inspired by Rogers, books, and souvenirs.
1720 W Will Rogers Blvd., Claremore, OK 74017
6. The Cave House, Oklahoma
House Cave is an exceptionally designed house near Downtown Tulsa, offering weekend trips to exciting residents and tourists. The house was decorated by Linda and Kate Collier owners, and decorations and furnishings are essentially fashionable from recycling facilities that have found a pair of mothers-daughters.
Initially, the building was a cave restaurant in the twenties and was a popular Hangout of Outlaw in a ban. It is said that there is a system of tunnels that pass for and under the house, which is said to organize the body of the victims to Klux Klan. The house was examined by the paranormal Tulsa investigation team and is considered to be a variety.
1623 Charles Page Blvd, Tulsa, OK 74127
7. What to Do in OK: Science Museum Oklahoma
The Oklahoma Science Museum is a science museum and planetarium in Oklahoma City that has several sections displaying a variety of interesting objects. The Destination Space exhibit houses the planetarium as well as several items honoring the contributions Oklahomans have made to air and space travel. The exhibit includes the Oklahoma Aviation and Space Hall of Fame.
Additionally, the International Gymnastics Hall of Fame resides in the Science Museum and features a large collection of medals, gymnastics apparatus, sculptures, and more. The museum also has a 20,000-square-foot children's area known as CurioCity, which offers learning opportunities through play.
2020 Remington Place, Oklahoma City, OK 73111
8. Woolaroc Museum & Wildlife Preserve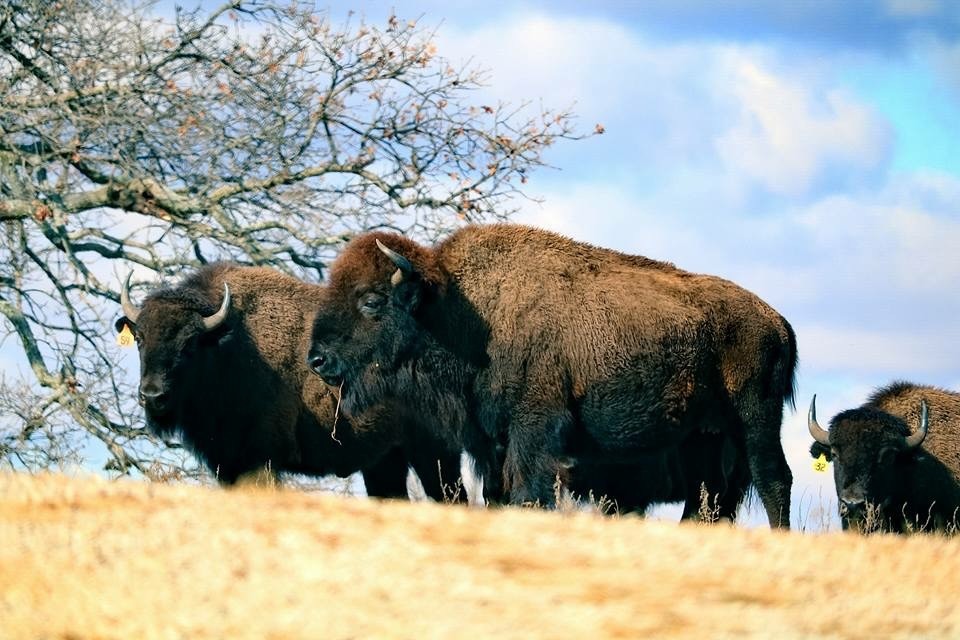 Woolaroc is a museum and wildlife preserve in the Osage Hills, northeastern Oklahoma. The property consists of a 3,700-acre wildlife reserve home to many native and exotic animals, such as longhorn cattle, buffalo, and elk.
In addition to the reserve grounds, the property has a museum dedicated to Western art and artifacts, Native American artifacts, and an impressive collection of Colt firearms. The grounds are beautiful, encompassing forests, lakes, and rocky cliffs.
9. Myriad Botanical Gardens
Myriad Botanical Gardens is a 17-acre urban oasis in downtown Oklahoma City. The park includes several gardens and works of art that surround the sunken lake. The focal point of the Botanical Gardens is the Crystal Bridge Tropical Conservatory, home to many living plants, trees, waterfalls, and exotic animals.
The park features include a children's garden with a playground, a dog park without a leash, walking and jogging paths, and a visitor center with a gift shop. Myriad Botanical Gardens are heavily involved in community education for youth and adults, and various programs are offered throughout the year.
10. Beavers Bend State Resort Park
Beavers Bend State Resort Park is one of Oklahoma's most popular state parks. Close to Broken Bow, the park includes Beavers Bend and Hochatown State Parks, Lakeview Lodge, and Cedar Creek Golf Course.
The park's waterways include lakes and rivers that offer fishing and boating opportunities and camping and tent campsites with water and electricity. The park has a nature center that hosts daily programs and activities for visitors of all ages.
There is a museum and a souvenir shop in the Forest Heritage Center. Other popular activities in the park include:
Horseback riding.
Hayrides in the park.
Eagle-watching.
Hiking the many miles of trails in the park.
Frequently Asked Questions: Best Things To Do In Oklahoma
Is there anything cool in Oklahoma City?
Myriad Botanical Gardens & Crystal Bridge Tropical Conservatory. Oklahoma State Firefighters Museum. National Cowboy & Western Heritage Museum. Science Museum Oklahoma.
What makes Oklahoma City unique?
Oklahoma City is the largest city in the State of Oklahoma with a population of more than 1.3 million. In land area, Oklahoma City is the 3rd largest in the nation. The Oklahoma City Capitol is the only capitol in the nation with a working oil well on its grounds. Oklahoma City is the Horse Show Capital of the World.
Is Oklahoma City Safe?
With a crime rate of 49 per one thousand residents, Oklahoma City has one of the highest crime rates in America compared to all communities of all sizes – from the smallest towns to the very largest cities. One's chance of becoming a victim of either violent or property crime here is one in 21.
Is there anything pretty in Oklahoma?
Oklahoma is super beautiful, no matter where you go. It's geographically rich, with rolling hills, endless plains, beautiful mountains, dense woods, and everything in between!
Is there anything worth seeing in Oklahoma?
Modern museums, galleries of international art, and lavish gardens all give the state a more cosmopolitan edge, but many tourists choose to experience Oklahoma with the simple pleasures of a road trip, and no highway is more iconic than the state's stretch of Route 66.
What is the best month to visit Oklahoma?
Oklahoma City Travel Tips
Plan a fall trip The best time to visit Oklahoma City is between September and November, when the weather is mild. Summertime highs can soar past 90 degrees, making it uncomfortable to tour some of the city's outdoor attractions. Meanwhile, winter temperatures can dip below freezing.
Are there wild buffalo in Oklahoma?
Several locations across Oklahoma offer the opportunity to see buffalo herds roaming wild. A few of the top options include Wichita Mountains Wildlife Refuge near Lawton and the Tallgrass Prairie Preserve in Pawhuska.
Which part of Oklahoma City is the safest?
People who live in the Oklahoma City metro area generally consider the northwest part of the metro area to be the safest. Your chance of being a victim of crime in the Oklahoma City metro area may be as high as 1 in 11 in the central neighborhoods, or as low as 1 in 37 in the northwest part of the metro area.
Conclusion – Things To Do In Oklahoma
Oklahoma is a state of fun and adventure. You can see some of the famous cinema sites such as the Oklahoma Wax Museum and spend time touring this great state. There are museums full of cowboys and Indians and derricks just begging to be explored.
If you're into history, head to the National Cowboy & Western Heritage Museum, where you can learn all about border life on the 1800s Trail. Oklahoma is sure to keep you busy and entertained for days!
Related Searches:
Things To Do In Okc For Adults
Things To Do In Okc Today
Unique Things To Do In Oklahoma City
Things To Do In Okc For Couples
Things To Do In Okc Tonight
Things To Do In Okc This Weekend
Things To Do In Oklahoma City At Night
Things To Do In Downtown Oklahoma City
10 Best Things To Do In Puerto Rico: Top Rated Attractions
12 Best Black Sand Beaches In The World
15 Best Things To Do In Maui, Hawaii: Top Rated Attractions In 2022
10 Best Cheap Caribbean Vacations: Best Time To Visit In 2022