12 Best Things to Do in Sedona, Arizona: Attractions & Activities 2022
Known for its remarkable rock formations, Sedona is a breathtaking location that many consider sacred and spiritual. The small town attracts all types of visitors, from nature lovers and outdoor enthusiasts to artists, spiritual seekers, and New Age practitioners.
Although its plateaus, sandstone Spiers, and trails beg to be explored, there is much to do in Sedona itself. The city itself. There are over 100 art galleries and excellent restaurants, and wellness centers. In addition, it has five New Age energy vortices that are located near prominent tourist attractions, such as the beautiful Bell Rock and the colossal Cathedral Rock.
With an epic hiking and mountain biking offering, scenic drives to enjoy, and a thriving arts and crafts scene, it's no wonder Sedona is one of the most popular places to visit in Arizona.
12 Best Things to Do in Sedona, Arizona
1. Cathedral Rock
One of Arizona's most famous and photographed formations, Cathedral Rock dominates the Sedona skyline with its colossal outcrops. Located just a short drive southwest of the city, it boasts stunning scenery and views, and its distinctive features make it a very popular place to visit.
With its 1,514 meters high, its sandstone summit looks out with the great mountain divided by a series of small mount points. To reach these gaps, visitors can climb steep and grueling trails, rewarded with epic views of the city's red rock landscape. The colorful and rugged Cathedral Rock features a vortex of feminine energy that can be visited and photographed.
2. Chapel of the Holy Cross
Right off the Red Rock Scenic Byway is the incredible Chapel of the Holy Cross, built into the side of a red rock formation. In addition to displaying amazing architecture, it also offers religious views over Sedona due to its prominent position atop a plateau.
Inspired by the Empire State Building, the beautiful church was erected in 1957 with the simple but strong angular shapes that lend it grace and grandeur. However, the 27-meter-high iron cross that makes up its southwest wall stands out.
Its gleaming stained glass windows offer parishioners and tourists dazzling views of Sedona and its surroundings. The huge cross looks just as impressive from below as it stands out delightfully against the red rocks surrounding it.
3. Bell Rock
Another impressive natural attraction found along the Red Rock Scenic Byway is the beautiful Bell Rock. This bell-shaped mount, which rises almost 150 meters into the sky, is popular with locals and tourists and has some hiking and mountain biking trails to explore its base.
Located just outside the town of Oak Creek, its striking silhouette allows for fabulous photos against the bright blue sky. Many people go hiking and biking in the rugged and remote landscapes that surround it. In addition, it has another vortex that offers a calming combination of masculine, feminine, and balanced energies.
4. Heritage of Palatki
About 45 minutes by car, northwest of the city, is the Palatki Heritage Site, one of the most amazing archaeological sites in the area. In addition to having prehistoric pictographs and petroglyphs, it also houses some incredible ancient dwellings located on the side of a sandstone cliff.
Very well preserved, these captivating cliff dwellings were inhabited between AD 1150 and 1350 by the Sinagua, an ancestral people. Visitors to the heritage site can hike three trails to see the picturesque villages up close, with some rock art that can also be seen here and there.
As impressive as the site itself is its striking surroundings, in which the red rock formations allow for fantastic photos.
5. Red Rock State Park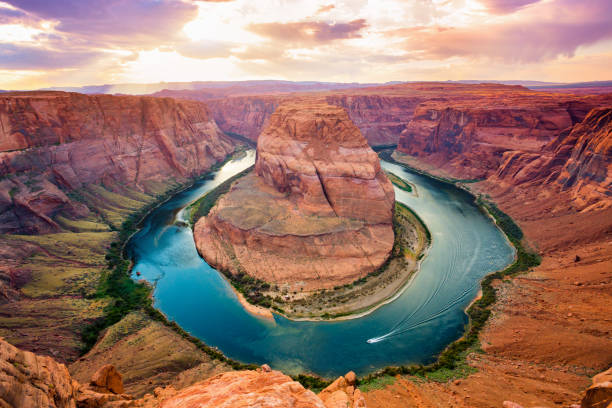 Home to great outdoor activities, Red Rock State Park is located southwest of Sedona. In total, it has ten trails for hiking, mountain biking, or horse riding that offer impressive views over the famous formations in the area.
Protected since 1986, the highlights are:
The native fauna and flora.
The picturesque stretch of Oak Creek.
The aptly named Eagle's Nest.
From this prominent point, you can see Sedona and its surroundings, with Cathedral Rock in the distance. You can also learn about the park's history and fauna at its excellent visitor center.
6. Town of Tlaquepaque
South of downtown Sedona is the large outdoor shopping center of Tlaquepaque Village. Modeled after a traditional Mexican town, its pretty squares are lined with attractive architecture, and there is an astonishing variety of art galleries and New Age shops. It also has excellent restaurants and food outlets.
Dotted with towering sycamores that provide much-needed shade, the charming resort is a joy to explore. The cobbled streets give way to courtyards filled with fountains and flowers. The town is ideal for shopping, with all kinds of products, from ceramics and jewelry to photos, paintings, and textiles.
7. Airport Table
Overlooking Sedona and its picturesque surroundings, the massive Airport Mesa is a popular place to visit, especially at sunset. In addition to offering panoramic views of the city, Table Mountain features a looping trail to explore and an energizing vortex.
Named for the city's airport at its top, the majestic mesa rises more than 1,300 meters high with rugged red rocks everywhere you look.
While walking its winding path, you can watch the landing and take-off of the planes and enjoy fabulous views of the city. You can also visit his masculine energy vortex, which is said to strengthen self-confidence and help lift the spirit.
8. Slide Rock State Park
North of the city is Slide Rock State Park, a popular sport in the hot summer months. You can swim in the cool waters of Oak Creek, lounge in its natural pools, and slide down the wet bedrock for which the park is named.
Before being protected in 1985, this attractive area was an apple farm with its historic farmhouse still on display for visitors to explore. However, most people head straight for the sparkling creek surrounded by the red rocks of Oak Creek Canyon.
Although it can be crowded, Slide Rock State Park is worth a visit for its laid-back atmosphere and, of course, it's sensational bathing.
9. Boynton Canyon Trail
The beautiful Boynton Canyon Trail, winding through the landscape, is one of the most popular hiking trails near Sedona. Spanning nearly 10 kilometers, the colorful canyon and its picturesque confines are just a 20-minute drive northwest of the city.
Starting at the exclusive Enchantment Resort, the trail takes you through desolate desert and pine patches before reaching an epic overlook overlooking the canyon.
Although its rugged reaches are worth exploring, many people are drawn to Boynton Canyon for its powerful vortex. Situated between two sandstone Spiers, it radiates a balance of masculine and feminine energies that believers find refreshing and stimulating.
10. Red Rock Scenic Highway
Traversing landscapes with fantastic formations, the Red Rock Scenic Byway is often called a "museum without walls." The route, which goes from Sedona to Oak Creek, is 12 kilometers in length and has great trails and viewpoints to stop at along the way.
Traversing the spectacular scenery of the Coconino National Forest, past landmarks such as Bell Rock and Cathedral Rock, and the Chapel of the Holy Cross is also nearby. Due to its many natural attractions, many people go hiking and mountain biking on this beautiful road.
11. Devil's Bridge Trail
Named for its spectacular sandstone arch, the charming Devil's Bridge Trail is just a 20-minute drive northwest of the city. While it is true that the hook alone is a magnificent sight, the kilometer-long trail also takes you through magnificent scenery, with a splendid view at the end of it.
Being quite short and not too steep, the trail is relatively easy to navigate, with the scorching sun above it being the main challenge. Once you reach the 15 meters high Devil's Bridge, the largest natural arch in the area, you can take some great photos and even cross its slender piece of sandstone to reach a phenomenal viewpoint.
12. Trail of the Broken Arrow
Another of Sedona's most popular hiking trails in the Broken Arrow Trail, a short drive south of downtown. Located in the Coconino National Forest, it stretches for 4.5 kilometers and crosses the red rock area. From its rugged ridges and edges, you can enjoy epic views.
Despite all the splendor it shows, it is very easy to explore on foot or by bicycle and has interesting rock formations and wildflowers that line the route.
From Chicken Point, you can enjoy the breathtaking views of the sandstone sculptures and Spiers surrounding Sedona. While it is certainly a very scenic trail, if you want some quiet, it's best to hike first thing in the morning, as Pink Jeep Tours do off-piste excursions on the adjacent trails later.
Frequently Asked Questions: Best Things to Do in Sedona, Arizona
What is Sedona Arizona known for?
Sedona's main attraction is its array of red sandstone formations. The formations appear to glow in brilliant orange and red when illuminated by the rising or setting sun. The red rocks form a popular backdrop for many activities, ranging from spiritual pursuits to the hundreds of hiking and mountain biking trails.
What is the best month to visit Sedona?
The best time to visit Sedona is from March to May when the temperatures are warm – but not scorching – and the area is in full bloom. Hikers love this season, as desert flowers add a pop of color to the rust-colored trails.
Is 1 day enough in Sedona?
Although one day is not enough, here are some suggestions on how to Experience Sedona for those who only have a day in Sedona. Sedona offers a myriad of activities for all travelers from adventurous to relaxed, as well as for those who wish to stroll the splendid streets of Uptown or Gallery Row.
How many days do you need in Sedona?
Don't make the mistake of taking a trip to Sedona for a night or two, three to five days is the time needed to see Sedona, the Grand Canyon, and beyond. Red Rock Country has numerous things to do for pet owners that can be enjoyed any time of year.
What food is Sedona known for?
Luckily, Sedona is home to countless restaurants ready to fill your belly. The local food scene is diverse including hot spots for smoked brisket enchiladas, woodfire pizzas, empanadas, and even rattlesnake sausage.
Is Sedona worth visiting?
It's been said that "God created the Grand Canyon, but he lives in Sedona." I don't know about all that, but it's definitely worth a visit. Its stunning red rock formations serve as a backdrop for all kinds of fun activities, from hiking and biking to wine tastings and soothing spa treatments.
Is Sedona a walkable city?
Sedona Main Street is a very walkable area/district with ample free parking and a multitude of shops, restaurants, galleries, spas, tour companies, accommodations, and services in a consolidated area with spectacular views and rural character. Use Sedona as a base camp for your trip to the Grand Canyon National Park.
Should I visit Flagstaff or Sedona?
Compared to Flagstaff, Arizona with an elevation of 7,000 feet, Sedona has the most favorable year-round weather conditions. Both Sedona and Flagstaff are viable travel hubs and each city has its unique offerings. Sedona is more tranquil and scenic in a very different way, and better suited for an older visitor.
Is Sedona a tourist trap?
The area from 1-17 to Sedona is full of tourist traps. The 179 roads were redesigned to slow people down to visit shops. On a holiday weekend, it can take 1 hour to go 10 miles. The best thing to do is take the back way from Cottonwood on 89A.
Related Searches:
things to do in Sedona, Arizona during covid
unique things to do in Sedona
things for couples to do in Sedona, az
things to see in Sedona by car
things to do in Sedona, Arizona with kids
things to do in Sedona this weekend
best hikes in Sedona
uptown Sedona
12 Best Things to Do in Albuquerque, New Mexico
12 Best Things to Do in Richmond, VA: Attractions & Activities In 2022
20 Best & Fun Things To Do In Monterey 2022
15 Best Things to Do in Santa Fe, New Mexico In 2022
11 Best Things To Do In Aruba: Attractions & Activities 2022