15 Best Things to Do in West Palm Beach: Top-Rated Attractions In 2022
West Palm Beach in Florida is a fantastic vacation destination for those in the area. Visitors will find fascinating museums, lush tropical gardens, and impressive entertainment venues on a trip here.
A visit to vibrant downtown West Palm Beach should not be missed, if only for the variety of delicious dining options on offer, along with some of the best shopping in the region.
West Palm Beach delivers for animal lovers, and you'll find animal sanctuaries, zoos, botanical gardens, and aquariums dotted throughout the area.
If you're into the arts, expect to find galleries galore, as well as sculpture gardens, antique trading galleries, and much more. Once you've stocked up on vintage souvenirs, you can also see the best local farm produce at the farmer's market.
1. Palm Beach Zoo
Palm Beach Zoo covers 23 acres and is set in tropical gardens that mimic the natural habitats of many animals. The zoo has over 700 animals, an aquarium, and a replica of the swamp.
Other attractions at the zoo include the reptile house, the tiger exhibition, and the koala and wallaby area. There are other interesting exhibits for younger visitors, such as an interactive play fountain and a historic carousel, and a safari train that will take visitors around the zoo.
Daily shows also help further showcase some of the animals in wildlife shows and bird shows by the water.
2. Norton Museum of Art
Established in 1941, the Norton Museum of Art is known as one of Florida's most important cultural venues. It is even famous on the international art scene for its Chinese and European art collections.
The museum presents works from the nineteenth and twentieth centuries. It features paintings and sculptures by several of America's leading artists such as Pollock and Hopper and more extensive collections, including Matisse, Monet, and Picasso.
In addition to the permanent collections, visitors can also enjoy special revolving exhibits throughout the year and lecture evenings, guided tours, and art programs.
3. Flagler Museum
The Flagler Museum was built in 1902 and was the former home of Henry Flagler, co-founder of Standard Oil. This extravagant two-story mansion spans an impressive 100,000 square feet.
It is decorated in an extravagant style that features everything from Swiss chalet influences to touches reminiscent of Louis XIV.
Some of the most talented artists in the West Palm Beach area and beyond are paintings and works of art, and visitors will notice touches of Spanish and French decorative styles, especially around the central courtyard.
The Flagler Museum is a National Historic Landmark. It is one of the most abundant properties in the Florida area, so visitors should not miss out on seeing this astonishing architectural feat.
4. Botanical Garden of the Mountains
Mounts Botanical Garden is the oldest and largest garden in West Palm Beach that is open to the public, and visitors here will find more than two thousand plants originating from six continents.
The botanical garden is set up in several distinct areas according to the plant species on display, and there are herb gardens, citrus gardens, fruit gardens, and palm gardens, to name just a few.
There are more than twenty different gardens here, and other features, such as butterfly gardens, each section has signage to inform visitors about the diversity and history of the plants on display.
5. Downtown West Palm Beach
Downtown West Palm Beach is a paradise for shopping and dining in the Palm Beach area, so come here if you're looking for some serious retail therapy followed by delicious food.
Some of West Palm Beach's most popular restaurants are located here. There are also various entertainment options such as bars, live music events, and clubs in the area.
Depending on when you visit, you can also expect to find a variety of rotating events throughout the year, such as music festivals and even open-air movie nights that take place under the stars.
6. Rapids Water Park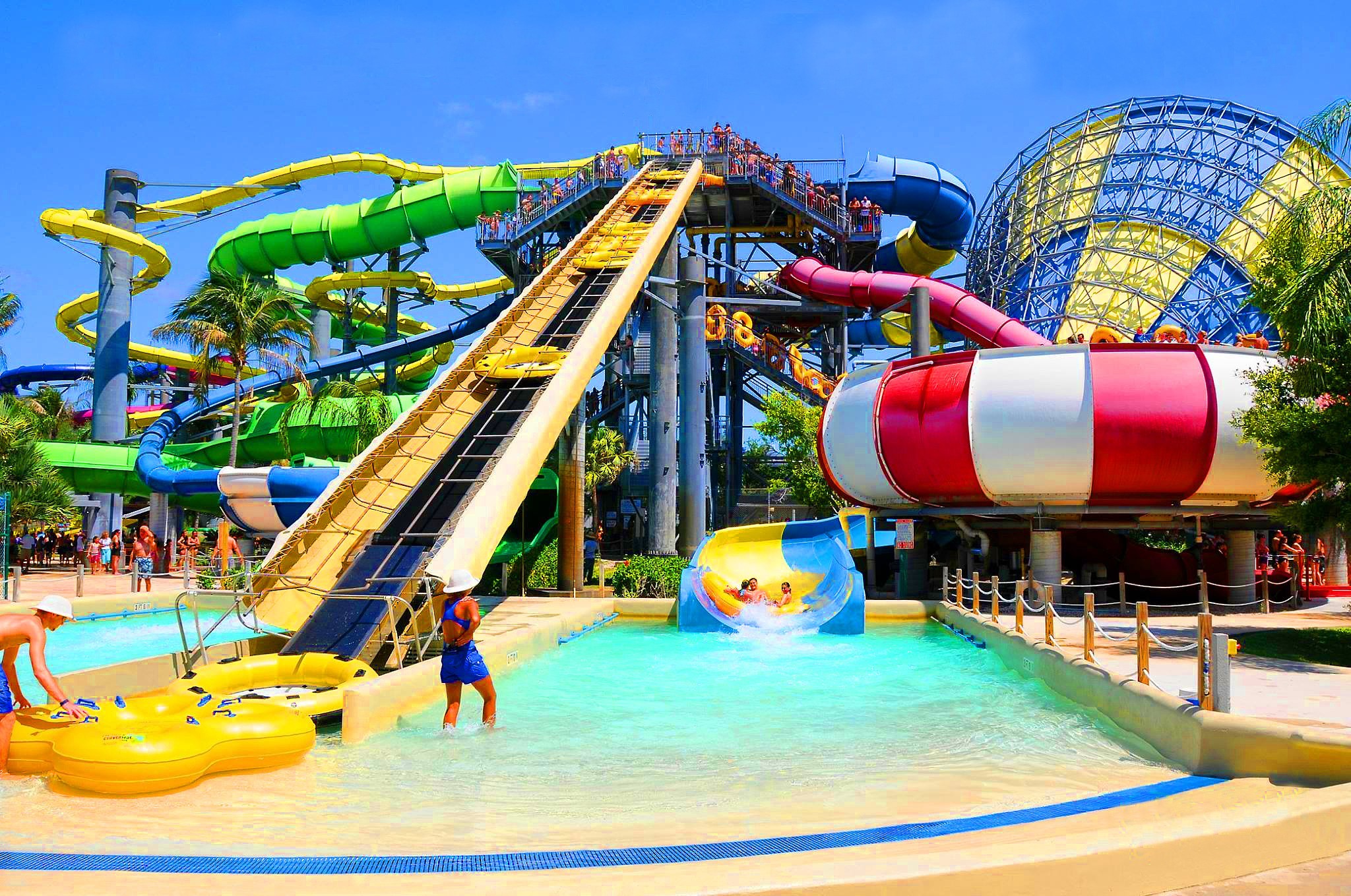 Rapids Water Park is a great place to come when the weather warms up, and it's the perfect spot if you want to cool off and cool off on your West Palm Beach trip.
Rapids Water Park has a wave pool that can reach up to six feet high, and if you're looking for something more relaxing, there's a lazy river where you can surf at a slower pace.
There are also thirty-five different waterslide attractions at Rapids Water Park. There are dedicated areas for younger visitors and toddler pools for guests of all ages to enjoy an afternoon in the sun.
7. Grassy Waters Nature Reserve
Grassy Waters Nature Preserve is an area of ​​lush wetlands in the Florida area and stretches for more than 30 miles over the West Palm Beach area.
The preserve is one of the highlights of a trip to West Palm Beach, and there are tours of the grounds to educate visitors about this incredible ecosystem.
In addition to the guided tours, visitors can also hike the trails above the wetlands that stretch for several miles and offer stunning views and a glimpse of some local plants and wildlife.
For those who wish to learn even more about the area, a visitor center and educational programs run throughout the year.
8. Ann Norton Sculpture Gardens
Housed in the former home of famed sculptor Ann Weaver Norton, Ann Norton Sculpture Gardens feature more than 100 of her works and are one of West Palm Beach's most historic and well-known attractions.
Ann Weaver Norton created these sculptures from 1905 to 1982. These incredible works are scattered throughout the property, including within the original home, around the scenic gardens, and within the artist's studio.
The property is covered with educational signs about each work so that visitors can learn more about the artist's vision, and there are art programs for both adults and children.
9. West Palm Beach Organic Market
If you are looking for the best local produce, the West Palm Beach GreenMarket is the place to find it.
The market sells only the freshest and most delicious produce in the area, including a variety of delicious seasonal fruits and vegetables, as well as freshly made meats, cheeses, and baked goods.
All vendors hail from the South Florida region, and this is a great way to support local artisan businesses with farm-to-table food philosophy. Visitors will also find a wide range of other products on offers, such as homemade arts and crafts items that make great souvenirs from a trip to West Palm Beach.
10. McCarthy Wildlife Sanctuary
McCarthy's Wildlife Sanctuary is not a zoo but a functioning wildlife sanctuary that welcomes and helps hundreds of injured or homeless animals from the South Florida area each year.
Visitors to the sanctuary can take a guided tour of the site to experience the work of this large facility and even visit some of the animals up close and help in their care, such as feeding or bathing them.
Friendly guides working at the sanctuary will explain how the animals are rescued and treated, and visitors can tour the clinic, recovery rooms, and rehabilitation center.
All proceeds from tours of the sanctuary go towards the care and maintenance of the animals here.
11. Kravis Center for the Performing Arts
The Kravis Performing Arts Center is the place to visit for those looking to enjoy the culture and entertainment of the West Palm Beach area.
Known for showcasing some of the best performances by famous performers, the Kravis Center has been exhibiting throughout the year, with some of the biggest names in the United States performing here in the past.
Depending on when you're in town, check the local lists to find out who's performing, but due to the sheer caliber of talent, you're unlikely to be disappointed.
12. Antique Row
Antique Row is a must-stop on a trip to West Palm Beach and is a charming neighborhood that features more than 50 charming shops selling a wide range of antiques, vintage collectibles, antique art, and furniture, as well as antique items. For contemporary homes.
In addition to the antiques on offer here, this is also a picturesque area to stroll around. There are a variety of restaurants and cafes that visitors can frequent while exploring the area on foot.
For those who like vintage furniture, this is one of the most comprehensive and unique shopping destinations in the entire South Florida area.
13. South Florida Aquarium and Center
One of South Florida's most important education and entertainment attractions, South Florida Center and Aquarium features an 8,000-gallon saltwater tank home to marine life and exotic species from the region.
The emphasis here is on an interactive experience to educate visitors about Florida's aquatic life. To this end, there are 50 practical attractions where visitors can get up close to different genres here.
In addition to fresh and saltwater tanks, the planetarium also plays films about underwater life. There is also an exhibition room with interactive devices.
As if that were not enough, there is even an Everglades exhibition for those who want to know all about the fantastic and complex Everglades ecosystem.
14. Okeeheelee Park
Okeeheelee Park spans an impressive 900 acres and has two on-site lakes, offering visitors the opportunity to boat fishing or even waterskiing.
In addition to water sports, there are also a variety of other activities that visitors can enjoy, such as a 27-hole golf course, basketball courts, tennis courts, and baseball fields.
If you prefer, there are also walking or biking trails that cover the area and an area for BMX bikes.
You'll also find the Okeeheelee Nature Center in the north of the park, which has trails, a diverse butterfly garden, and observation decks for bird watching.
15. Peanut Island
If you are looking for more than 80 acres of lush tropical vegetation, Peanut Island is the place for you.
Located just off West Palm Beach, this island, so named because it resembles a peanut, is lined with sandy beaches, and visitors come here to swim in the tropical turquoise waters teeming with diverse aquatic life.
Snorkeling is a popular activity on Peanut Island, and you can also camp here if you apply for a permit in advance.
Frequently Asked Questions: Best Things to Do in West Palm Beach
Is West Palm Beach worth visiting?
Outside of Miami, West Palm Beach is one of the wealthiest cities in South Florida, but there is more to this vibrant metropolis than mega-mansions, private yachts, and secluded beaches. From the beautiful beaches to the pulsating nightlife to the family-friendly fun, this city has something for everyone.
What is Palm Beach best known for?
The island of Palm Beach is home to legendary resorts, exquisite mansions and historic landmarks, including Henry Flagler's former residence, now the Flagler Museum. Lined with stately palm trees, the shopping nirvana of Worth Avenue is known worldwide.
Is West Palm Beach Better than Miami?
But with its focus on fun and sun over career, Miami is the perfect place for those who don't want their career to overshadow their personal life. But if you're looking for a place to grow your career (and your family), West Palm Beach is the better option.
Is West Palm Beach Fl safe?
Is West Palm Beach a safe place to live? While West Palm Beach has a high crime rate relative to the national average, it's one of the safer cities in Florida. Most crime occurs in one large area of the city.
Does Palm Beach have a downtown?
Clematis Street & Downtown West Palm Beach. Clematis Street is the historical heart of Downtown West Palm Beach. Starting at Flagler Drive on the Intracoastal Waterway, walk west to experience the indigenous flavor of the area's colorful boutiques, nightclubs, live music, restaurants and historical landmarks.
Is Palm Beach expensive?
Located in South Florida, Palm Beach is the most expensive place to live in the entire state. Palm Beach is known for its upscale estates and boutiques, as well as its world-famous beaches.
Related Searches:
Things To Do In West Palm Beach Today
Things To Do In West Palm Beach For Couples
Things To Do In West Palm Beach At Night
Weird Things To Do In West Palm Beach
West Palm Beach Attractions For Families
Things To Do In West Palm Beach In December
Free Things To Do In West Palm Beach
Things To Do Alone In West Palm Beach
Best Time To Visit Hawaii: Weather, Temperature & Season 2022
15 Best Things to Do in Miami Beach, Florida
14 Best Restaurants In Boca Raton, Florida You Must Try In 2022
16 Top-Rated Resorts in Texas, USA: Best Time To Visit In 2022