15 Top-Rated Resorts in Destin, Florida: Best Time To Visit In 2022
If you're packing and getting ready for your Florida vacation, chances are you're looking for the perfect destination. Florida offers many cities and towns to hide in, and each one will be just as impressive and enjoyable as the last. But if you are looking for the picturesque and iconic Emerald Coast, take a look at Destin. Located on Florida's Emerald Coast, Destin is known for its white-sand beaches and popular tourist spots.
It sits on the peninsula that separates the Gulf of Mexico from Choctawhatchee Bay, and the city has the largest fleet of fishing boats in all of Florida. Destin is a famous vacation spot, and as such, it attracts millions of visitors each year.
Due to its popularity, Destin is sure to have the right resort or hotel for every visitor. Suppose you are looking for something intimate and fun or looking for an alternative large enough to accommodate the whole family. In that case, you will not be disappointed in what Destin has to offer.
With its hot summers and relatively mild winters, Destin is a city worth traveling to regardless of the time of year. Whether you're looking for a vacation getaway for the holidays or an exciting spring getaway, Destin will be able to meet your every need.
When To Go To Florida?
The state of Florida in the US is worth visiting all year round. The so-called hurricane season (June to November) and the rainy season in summer attract low prices and cannot be avoided. Again and again, the sun appears, many tourists even remain utterly safe from possible thunderstorms during a two-week trip.
However, we naturally want to limit the risks for our readers in the best possible way. Therefore, we recommend December to mid-May as the best travel season for Florida. There are fantastic conditions for a bathing holiday, for example in April, which we would like to recommend. The water temperatures are suitable for swimming all year round with a minimum of 22 ° C (lowest value in January).
The rainy season is by no means "off-limits" is also evidenced by the following fact: most Americans visit Florida, especially in summer, and May through September is the absolute peak of the season. If you accept the increased risk of rain and storms, you can sunbathe on crowded beaches and enjoy your vacation most days with water temperatures up to 31 ° C in summer.
1. Sugar Sands Inn & Suites
The Sugar Sands Inn & a Suites is located in the center of Destin to allow guests access to both the warm sandy beaches that the Emerald Coast offers and the main tourist destinations.
Sugar Sands Inn provides a variety of rooms and suites, including intimate studios for couples looking to escape their everyday lives and two king suites that offer space for the whole family.
Sugar Sands Inn offers guests complimentary breakfast each morning. While there's no on-site restaurant, Sugar Sands Inn is located in an area where guests will be able to discover a delicious restaurant that will fill all their cravings within a few minutes walk.
Or drive. This hotel's amenities include a 24-hour fitness center, a universal fitness center, and heated outdoor pools. And when it's time to hit the streets, the Sugar Sands Inn is close to all kinds of attractions.
2. Silver Shells Beach Resort and Spa
Silver Shells Beach Resort and Spa is a stunning oceanfront destination that will take guests breathless in both the beauty of the resort and the view from the rooms.
Guests can choose rooms with beach and ocean views, with private, furnished balconies. Some rooms face the city, from standard rooms to suites with living rooms and kitchens.
Silver Shells Beach Resort has Ruth's Chris Steak House, which offers top-quality steak and local seafood, as well as New Orleans cuisine.
The Spa at Silver Shells is the perfect place to unwind. It lets trained professionals wash away your hassle with soothing treatments that will leave you refreshed and invigorated guests looking to escape their everyday lives.
3. Wyndham Vacation Resorts at Majestic Sun
This resort is located across the street from the picturesque white sands of Miramar Beach. Wyndham has all the atmosphere of a beachside town along with all the luxurious amenities guests deserve. Each guest will enjoy a condo-style suite at Wyndham, with separate living and dining areas from the bedrooms and ocean views that stretch for miles in either direction.
Wyndham Vacation Resorts is located in downtown Destin, allowing guests to discover all of the property's most popular local restaurants.
This complex offers four outdoor pools and an indoor/outdoor pool, hot tubs, tennis courts, and even golf. Guests will be able to spend their time however they like or even explore all the other fun local Destin has to offer, including Miramar Beach across the street.
4. Palms of Destin Resort
With some of the beaches and ocean nearby and beautiful gardens and trees, the Palms of Destin Resort maintains a natural Florida feel.
Guests staying at the Palms of Destin Resort will be able to choose from one, two, or three-bedroom suites with bedrooms, living rooms, and private balconies. They can also dedicate themselves to renting a vacation villa, with a capacity for up to six people, perfect for family vacations and reunions!
The Palms of Destin Resort offers guests access to a delicious on-site restaurant, where you can find American favorites and delicious seafood dishes.
While this resort is not next to the beach, there is a free shuttle to Calhoun Beach, only a three-minute drive away! There is a playground where parents can relax while their children burn off that holiday energy for the children.
5. Fairfield Inn and Suites
Fairfield Inn and Suites is located across the street from Henderson Beach State Park, where guests will access the stunning white sands of Florida's unforgettable Emerald Coast.
Fairfield Inn offers guest rooms and suites, along with studio rooms with private furnished balconies. Guests will enjoy views of the gulf waters and the waterside breeze from their balconies.
A complimentary hot and continental breakfast is offered each morning at the Fairfield Inn. For dinner, you can order at local restaurants and sample the best food Destin has to offer.
With the central location in Henderson Beach State Park, guests have access to deep-sea fishing charters, along with the stunning white sand beaches that stretch along the Florida coastline.
6. Wingate by Wyndham
Another community with access to Henderson Beach State Park, Wingate, is where guests can enjoy home comforts while fully committing to their Florida destination vacation.
The Wingate design is in soft, light colors to suit the overall tropical Florida environment. Guests can choose any number of rooms and suites, some with views of nearby trees or the pool, as well as the city of Destin.
Along with the free breakfasts, guests can explore nearby restaurants for all their dining needs. Explore a steakhouse or fresh, local seafood harvested from the gulf to plate. Nearby, guests can take an actual Destin vacation by taking a jet ski around the bay or playing a round of golf at the Indian Bayou Golf Club.
7. Holiday Inn Express and Suites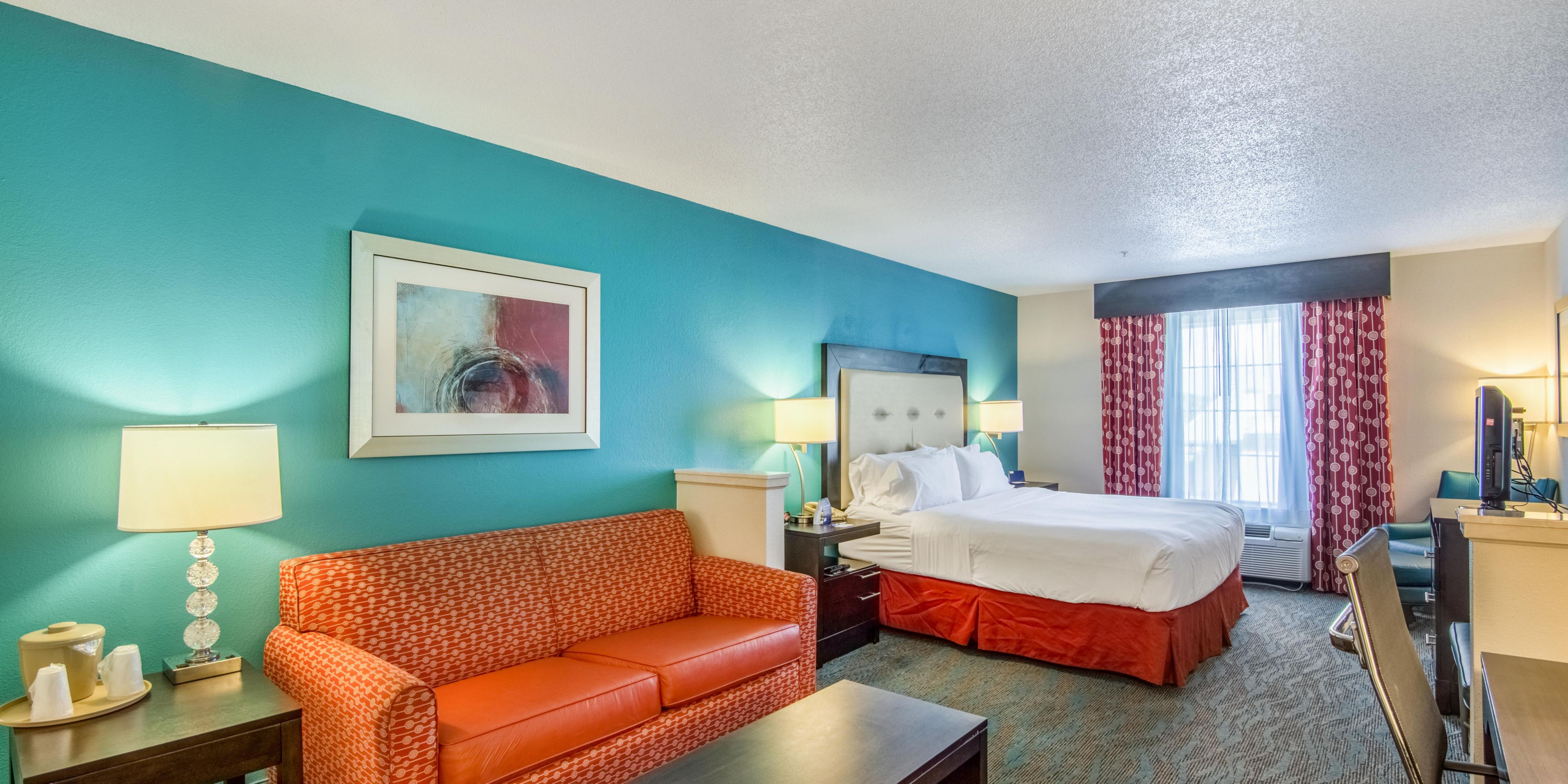 Located in the Destin area of ​​Commons Mall, the Holiday Inn Express is ideal for shoppers and beach lovers alike as it is surrounded by the Destin Commons for year-round shopping and is just a block and a half away.
From the white-sand beaches. From the emerald coast. Guest rooms and suites will be offered, with views of the surrounding Destin Commons area.
Although the Holiday Inn Express does not have an on-site restaurant, it is within walking or driving distance of nearby local Destin spots such as Cafe Crazies with delicious Italian and seafood fare or the Crab Trap for a Seafood and oyster bar. Along with the hotel pool, this hotel is close to beaches and shopping for nonstop vacation entertainment around Destin and the Emerald Coast.
8. SunDestin Beach Resort
SunDestin Beach Resort is located in the heart of Destin, nestled on its private beach along the Gulf of Mexico, with stunning sands and beautiful, endless views of the water. Guests will enjoy all the luxurious amenities of a resort while staying in condo-style suites that feature private furnished balconies and water views from their accommodations.
Cabana Cafe is located at the SunDestin Beach Resort, offering casual fare and American favorites like burgers, wraps, seafood, and pizza. Seasonally, Cabana Cafe also offers full service on the beach, so you can continue to laze in the sun while you eat.
Located on its coast, SunDestin Beach Resort offers guests access to Costa Smeralda in a secluded manner so that guests can enjoy their vacation without all the tourist hustle. Guests also have easy access to fishing activities and golf, whether the ocean or the greens call them.
9. Hidden dunes
Hidden Dunes is precisely what the name describes – a perfect, hidden oasis that is almost tailor-made for couples looking to escape the real world and experience romance.
Hidden Dunes are located along the coast, surrounded by beach dunes and oak trees, hidden from the rest of Destin. Hidden Dunes has 27 acres of naturally landscaped property with three- and four-bedroom beach villas with Gulf-side pools and water-view balconies.
Hidden Dunes offers a free trolley service, so guests can get to and from the resort to the rest of Destin and explore nearby restaurants for their dining needs.
Rooms also feature fully-equipped kitchens, and the property features a barbecue and picnic areas. Hidden Dunes also offers beach amenities, fire pits, and tennis courts, along with the stunning beachfront property and location.
10. Hampton Inn and suites
Hampton Inn and Suites is just steps from the shores of the Gulf of Mexico, making it a perfect destination when booking your Destin vacation.
Enjoy the bright pink exterior and the variety of rooms and suites that will make you feel at home, surrounded by breathtaking ocean views. Guests will enjoy work areas and free Wi-Fi in every room, with suites available for additional space.
Each morning, guests will receive a complimentary breakfast or healthy meal from taking with them. Around the hotel, there are many Destin restaurants to explore for lunch and dinner. For a day on the town, Hampton Inn is just a short drive from the Track Family Recreation Center or Big Kahuna Water & Adventure Park.
11. Embassy Suites
Embassy Suites is an all-suite lodging hotel located across the street from Miramar Beach, offering guests a view of the white sands and the endless stretch of a breathtaking ocean.
Guests will have access to a private boardwalk along a secluded beach for maximum seclusion and relaxation during their stay. Each suite is decorated and furnished for optimal comfort, with views overlooking the sparkling waters.
For breakfast and dinner, guests are encouraged to visit the Calypso Cafe, with breakfast meals and a made-to-order meal menu as healthy as delicious. Embassy Suites offers guests access to their private boardwalk and beach, where they can spend the day lounging and enjoying the sun and ocean. When it's time to hit town, this hotel is within walking distance of all the activities Destin has to offer.
12. Sandestin Golf and Beach Resort
Sandestin Golf and Beach Resort is a sprawling 2,400-acre beachfront property on Florida's Emerald Coast. This is the perfect resort for all occasions, including couples retreats and family getaways.
There are 1,250 vacation rentals in Sandestin, from studios to 4-bedroom suites, condos, villas, and penthouses. Guests will never be short of options here, and there will be accommodation to suit every need, style, and desire for decadence.
Guests will be able to choose from more than 20 casual dining and dining options at the Sandestin Golf and Beach Resort, including a bay-view breakfast at Sunset Bay Cafe or a private couples dinner at the Marlin Grill. Guests can enjoy free kayak rentals so everyone can hit the water and have fun on the beach. Sandestin also includes four swimming pools, tennis courts, and a gym.
13. SummerPlace Inn
SummerPlace Inn is just a few minutes walk from the Emerald Coast Parkway, making it a prime destination for all your vacation needs.
It is a perfect and environmental hotel for couples and families looking to enjoy the sunny atmosphere of Florida. Guests can choose any number of spacious rooms and suites, with all the amenities of a luxury resort and the comforts of home.
Guests receive complimentary hot and fresh breakfasts and have nearby dining options around Destin for their lunch and dinner locations.
Guests can explore the surrounding entertainment for fun, such as a nearby game room, laser tag, and indoor miniature golf. Of course, if you are a guest looking to relax on the beach, the sands are just steps from your hotel door.
14. The Henderson
Located in the best beach resort in Destin, the Henderson is a resort that requires the design and atmosphere of a seaside mansion situated on the warm and luxurious beaches of the Emerald Coast.
There are 170 rooms and suites for guests to choose from, with views of the Gulf of Mexico, the nature preserve, or the Crystal Beach cabanas that dot the nearby landscape.
Guests will get the actual sea-to-table experience at any of the Henderson hotel restaurants, with cuisine offered daily to local anglers and dishes made with the best local ingredients.
The Henderson is nestled against 200 acres of nature preserve, allowing guests and an endless variety of things to explore, along with access to the warm beaches of the Gulf of Mexico.
15. Emerald Grande at Harborwalk Village
Surrounded by HarborWalk Village and nestled against the sparkling waters of Florida's Emerald Coast, Emerald Grande is a perfect resort for both couples and families looking to escape their everyday life.
Each room at the Emerald Grande has a spacious balcony overlooking the waters and panoramic views. Guests can choose from standard rooms and suites, with room for the whole family.
Surrounded by HarborWalk Village, guests can choose from many delicious restaurants, from Italian cuisine to Mexican dishes and fresh seafood. For fun, guests can explore shopping at HarborWalk Village or visit American's Fun Sports for a mirror maze or shooting gallery.
Frequently Asked Questions: Top-Rated Resorts in Destin, Florida
What beach in Destin has the clearest water?
Surveys for the clearest water in Florida consistently rate Northwest Florida's Emerald Coast as Number One. This esteemed title of clarity includes Destin, Miramar Beach, all the picturesque coastal villages along South Walton's Scenic 30A, and Panama City Beach.
Is Panama City or Destin better? – Top-Rated Resorts in Destin
Destin is more upscale and the shopping is much better. They have the silver sands outlet mall and Destin Commons which has all the nice stores. The stores in Pier Park just can't compete in my opinion. However, Panama City Beaches are beautiful, clean, and there are lots of condos to choose from.
Which is better Destin or Miramar Beach? – Top-Rated Resorts in Destin
Destin *might* be the best for sand and water quality, but the crowds and traffic are ghastly, probably worse than Panama City. If Destin is a 100% beach though, Navarre and Miramar are 99% beaches. There is virtually no difference unless you want to call in the scientists to run tests.
What is the best month to go to Destin Florida?
The best time to visit Destin is in April and May when the water is warm, the sun is shining and the temperatures are comfortable (expect highs in the mid-70s and 80s). If you visit any earlier, you risk cooler weather and chilly water. A summer trip will put you among the crowds and the peak prices.
Which is better Destin or Siesta Key? – Top-Rated Resorts in Destin
The gulf at Siesta Key is warmer than Destin since it is much further south, which makes it a popular destination during the winter when it is frequented by "snowbirds" mostly from the northeast and New York. Numerous studies consistently rate the Emerald Coast as having the best water clarity in Florida.
Why is the water so pretty in Destin Florida?
The color of the water here on the Emerald Coast is attributed to the Algae in the water. When the sun reflects off the Algae it makes our water the beautiful emerald color we all love. Because the sun plays a big role in why the waters are emerald, the water may not be as green on rainy days.
Related Searches: Top-Rated Resorts in Destin
Resorts Destin
Resorts In Destin, Florida On The Beach
Luxury Resorts In Destin, Florida
Sandestin Golf And Beach Resort
Destin, Florida All-inclusive Resorts Adults-only
Best Resorts In Destin, Florida For Families
Destin Florida Resorts On The Beach All-inclusive
Destin Florida Beach
16 Top-Rated Resorts in Texas, USA: Best Time To Visit In 2022
10 Best All-Inclusive Resorts In Tulum, Mexico: Best Time To Visit In 2022
12 Best Things to Do in Atlantic City, New Jersey In 2022
17 Best Hot Air Balloon Rides in the World 2022
15 Top-Rated Resorts in the Palm Springs Area In 2022
Top-Rated Resorts in Destin