Welcome to the West Coast of the USA, where nature's most stunning masterpieces await your exploration. From soaring mountain peaks to rugged coastal cliffs, this region is a paradise for adventure seekers and nature lovers alike.
In this article, we'll take you on a journey through the "11 Best Hikes on the USA West Coast for Insane Views." Get ready to be immersed in breathtaking landscapes, encounter wildlife, and witness the sheer beauty of untouched wilderness.
Whether you are a seasoned hiker or a beginner, there is a hike on this list that is perfect for you. So what are you waiting for? Start planning your next USA West Coast adventure today!
1. Glacier Point, Yosemite National Park [4 Miles]
Glacier Point is a 4 miles round hiking trip. This trail starts near the Badger Pass Ski Area and takes you through beautiful scenery. This hike is not very difficult, so it will be suitable for families and experienced hikers.
As you walk you'll see Yosemite Valley with its tall cliffs, the winding Merced River, and lush meadows against the backdrop of the Sierra Nevada Mountains.
The best part comes when you reach Glacier Point. There, you'll be rewarded with breathtaking views. You can see famous landmarks like Half Dome, El Capitan, and Sentinel Dome. The majestic Yosemite Falls also adds to the stunning scenery.
Best Time To Go: Early Morning or During Sunset. The changing light creates a beautiful atmosphere that you won't forget.
2. Triangulation Peak and Boca Cave [4 Miles]
Explore the wonders of Oregon's Central Cascades on this 4-mile hike to Triangulation Peak and Boca Cave. Starting at Santiam Pass Sno-Park, you'll walk through a beautiful forest.
The climb to Triangulation Peak treats you to the breathtaking mountain and valley views. Once you reach the top, take a well-deserved break and capture the stunning 360-degree scenery in photos.
But the adventure doesn't stop there! Descend and continue on to Boca Cave, a cool lava tube cave. Bring a flashlight or headlamp to explore its intriguing interior. It's a unique experience that adds excitement to your hike.
Read Also: 10 Secret Camping Spots in Utah 2023 [Hidden Gems]
3. Dry Creek Falls, Portland [4.4 Miles]
Discover the beauty of Dry Creek Falls on this 4.4-mile hike near Portland. Located in the Columbia River Gorge, this trail offers a picturesque adventure for nature enthusiasts.
As you start the hike along the creek, you'll be surrounded by many green plants. The soothing sound of flowing water sets the perfect ambiance for your journey.
As you continue, the trail leads you to the magnificent Dry Creek Falls. The sight of the 74-foot waterfall cascading into a serene pool is simply awe-inspiring. Remember your camera to capture this natural wonder.
The hike is relatively moderate, making it accessible for hikers of various skill levels. However, some parts of the trail may be rocky, so sturdy footwear is recommended.
4. Ewoldsen Trail, Julia Pfeiffer Burns State Park [4.5 Miles]
Start in a peaceful redwood forest, surrounded by tall trees that create a serene atmosphere. As you hike higher, be ready for breathtaking views of the Pacific Ocean and rugged cliffs.
Keep an eye out for wildlife like birds and squirrels along the way. Take breaks at scenic overlooks to capture the beauty in photos.
The trail is moderately challenging with some uphill parts and uneven ground, so wear comfy hiking shoes and bring water and snacks.
5. Weaver's Needle, Peralta Trail #120 [4.9 Miles]
The journey begins with a scenic walk through the rugged desert landscape, where you'll see unique flora and perhaps spot some desert wildlife.
As you walk towards, the iconic Weaver's Needle comes, a towering rock formation that captivates with its striking beauty. This natural wonder is a sight to behold and offers a great backdrop for memorable photos.
During your adventure, watch for cacti and other desert plants that add to the charm of the surroundings. The trail leads you to a viewpoint where you can marvel at the awe-inspiring scenery before returning.
The Peralta Trail #120 is considered moderately challenging due to some rocky sections, so sturdy hiking boots are essential for a comfortable hike.
Also Read: 12 Best Black Sand Beaches In The World [2023]
6. Mount Constitution Loop, Moran State Park [6.7 Miles]
Enjoy lush greenery and stunning views of the San Juan Islands as you climb. Don't miss the historic observation tower at the summit for more breathtaking vistas.
The trail offers a mix of forests and meadows, with a chance to spot wildlife like deer and birds.
This is a pretty challenging trail, but getting easier towards the summit. Wear comfy hiking shoes and bring water and snacks.
7. Bear Canyon to Seven Falls [8 Miles]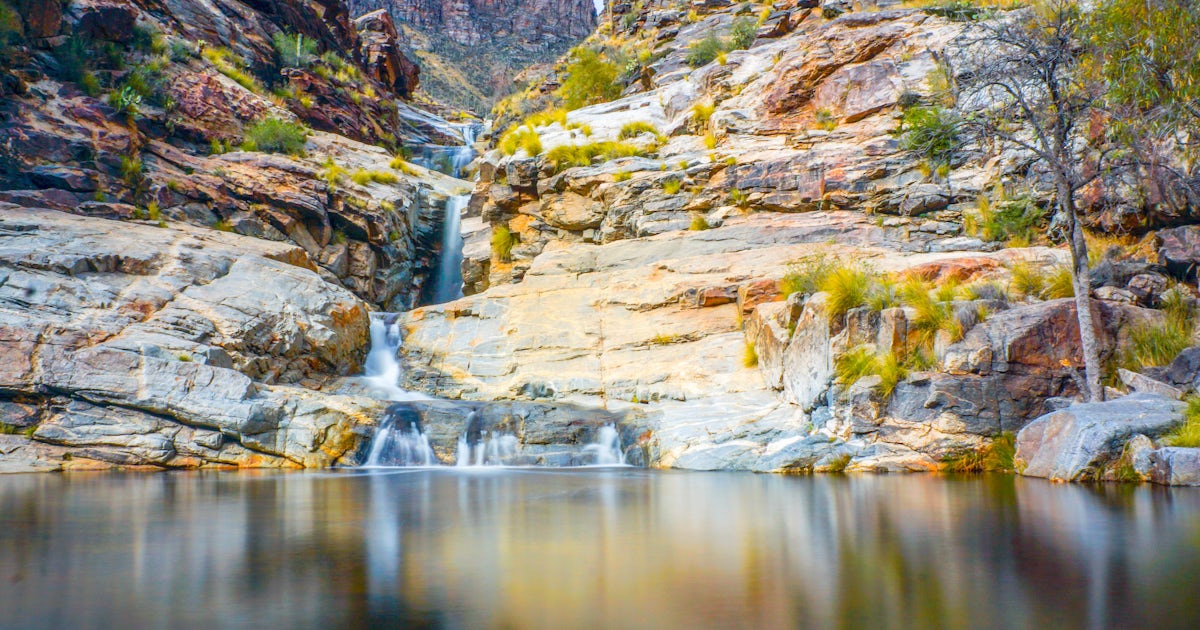 Start at Bear Canyon Trailhead and enjoy the unique beauty of the Sonoran Desert. As you go deeper into the canyon, you'll be amazed by the desert landscapes.
The best part of the hike is reaching Seven Falls, a series of cascading waterfalls with inviting pools. It's a refreshing oasis, perfect for a dip and to cool off.
Be prepared to cross the creek a few times, so your feet might get wet. It adds fun to the adventure! Keep an eye out for birds, lizards, and desert wildlife along the way.
Bring water, snacks, and sunscreen, as the Arizona sun can be intense.
The trail is moderate with some rocky parts and changes in elevation. Wear sturdy hiking shoes for a comfy hike.
Related: Wyndham Rewards Guide: Benefits, How To Redeem & More [2023]
8. James Irvine & Miners Ridge Trails [10.7 Miles]
You have to start on the James Irvine Trail, surrounded by towering redwood trees and a peaceful atmosphere. Follow the trail through lush ferns and dappled sunlight.
Connect to the Miners Ridge Trail for more scenic views as you hike up and down. Watch wildlife like banana slugs, deer, and birds.
Enjoy the tranquility of the redwood forest and take breaks to appreciate its grandeur. Pack water, snacks, and a light jacket for the coastal weather.
The hike is moderately challenging, so wear sturdy hiking shoes.
9. The Narrows, Zion National Park [16 Miles]
The hike takes you through the narrowest part of Zion Canyon, with the Virgin River as your trail.
Wade through the river as you're surrounded by towering red cliffs, creating a breathtaking and unique experience.
The views are stunning, with the sunlight painting the canyon walls in beautiful colors. You'll encounter natural springs and unique rock formations along the way, making it even more special.
Be cautious of flash floods, and check the weather before you go.
10. Havasupai Trail, Havasu Falls [20 Miles]
Start at the trailhead and hike through breathtaking red rock canyons. Witness the mesmerizing Havasu Falls, with its turquoise waters against the red rocks.
Discover other scenic waterfalls and pools like Mooney Falls and Beaver Falls.
Experience the magic of camping near Havasu Falls under the starry night sky.
Plan ahead and get necessary permits, as this trail is popular, and respect the Havasupai Tribe's rules to preserve the area.
11. Thunder Knob Trail Hiking [3.6 Miles]
This is one of Cascades National Park's most beautiful hikes, with great views of Diablo Lake. The hike starts at Diablo Lake and goes up 425 feet to Thunder Knob. From Thunder Knob, you can see 180 degrees of the icy Diablo Lake.
Since this walk is pretty short, you can also combine it with some other great short hikes in the Cascades National Park for a fun and busy day out.
Best Time To Go Hiking On The USA West Coast
Spring (March to May): Spring is a great time to see wildflowers growing in the mountains and forests. The weather is also getting warmer, so now is an excellent time to go hiking.
Autumn (September to November): Another great time to walk on the USA West Coast is in the autumn. The weather is still warm, but the crowds have started to thin out. In the fall, the leaves also change colour, making for some beautiful walks.
Winter (December to February): The USA West Coast can be a great place to walk if you want to see a snow wonderland. The mountains and woods covered in snow are just beautiful. But it's important to be ready for the snow and cold weather.
You'll Like: Can I Travel With A TV In Plane 2023? [International, TV Sizes & More]
What should I pack for a hiking trip on the USA West Coast?
Essentials: Backpack with waist straps, Sleeping bag and sleeping pad, Tent, Stove and fuel, Cooking pot and utensils, Food and water, First aid kit, Sunscreen, Insect repellent, Headlamp or flashlight, Map and compass, Whistle, Toilet paper & hand sanitizer, Trash bags.
Clothing: Hiking boots or shoes, Hiking socks, Hiking pants or shorts, T-shirts, Long-sleeved shirt, Fleece jacket or sweater, Rain jacket and pants, Hat, Gloves.
Optional: Bear spray, hiking poles, Gaiters, Trekking sandals, Camp shoes, Dry bags, Satellite communication device, Power bank and charging cable, Guidebook, Camera.
You can add or remove any of these things according to your destination or need.
What safety precautions should I take while hiking on the USA West Coast?
Here are some safety precautions you should take while hiking on the USA West Coast:
Plan your hike: Choose a hike that is appropriate for your fitness level and experience. Research the trail conditions and weather forecast before you go.
Be prepared for the weather: The weather on the USA West Coast can change quickly, so be prepared for anything. Pack rain gear, sunscreen, and a hat, even if the forecast is calling for clear skies.
Bring the essentials listed above
Be aware of your surroundings: Stay on the trail and be mindful of your footing. Watch out for slippery rocks, loose gravel, and uneven terrain.
Hiking with others: If you are hiking with others, stay within sight of each other. If you are hiking alone, let someone know where you are going and when you expect to be back.
Be prepared for wildlife: The West Coast is home to a variety of wildlife, including bears, cougars, and rattlesnakes. Be aware of your surroundings and take precautions to avoid encounters with these animals.
Carry a bear canister: If you are hiking in bear country, you are required to carry a bear canister to store your food and other scented items.
Know your limits: Don't push yourself too hard. If you are feeling tired or sore, turn back.