14 Best Restaurants in Aspen, Colorado: Top Picks 2022
After a day of skiing, hiking and other outdoor adventures, sitting down to a delicious lunch or dinner is a special treat. Aspen is home to excellent restaurants serving traditional American Alpine cuisine and American, Latin, Vegetarian, Franco-American, Japanese and other modern flavours.
Many restaurants use local, natural and organic ingredients to create delicious, flavorful dishes. Here are the best restaurants in Aspen, Colorado.
Some attractions may be temporarily closed or require prior reservation. Currently, some restaurants only offer pickup services. Hours/availability may have changed. Hours/availability may have changed.
1. Pyramid Bistro, Aspen, Colorado
Pyramid Bistro is a unique "nutritious" restaurant serving healthy, primarily vegetarian cuisine. Light meat and fish dishes are also offered. Your taste buds will enjoy dishes like Indian red lentil spices, rainbow rice risotto or Thai spiced pumpkin soup.
The restaurant also offers beer, wine, fresh juices and other speciality drinks. Dr Joel Fuhrman and Chief Chef (Nutritionist) Martin Oswald opened this lovely restaurant in 2010. They coined a nutritional term to describe the person who consumes the most micronutrients per calorie. Find the Pyramid Bistro on historic Main Street in downtown Aspen.
Address: 221 East Main Street, Aspen, Colorado
2. Pine Creek Cookhouse, Aspen, Colorado
Pine Creek Cookhouse is a romantic, quaint and rustic restaurant serving traditional American Alpine cuisine, made with local, natural and organic seasonal ingredients that are responsibly farmed.
Enjoy unusual dishes such as Colorado elk sausage, fried red ruby rainbow trout, or North American buffalo sirloin. Vegetarian options are also available. Chef Chris Keating runs a kitchen at Pine Creek, founded in 1971.
The charming restaurant can only be reached in a horse-drawn sleigh or on a guided cross-country ski or snowshoe tour in winter. It sits at the foot of the majestic elk range in Castle Creek Valley.
Address: 12500 Castle Creek Road, Aspen, Colorado
3. Best Restaurants in Aspen: Zocalito
Visit the Zocalo Bistro and Rum Bar for delicious Latin cuisine if you fancy something spicy. Their menu features unique flavours of Oaxaca, Mexico.
Enjoy tasty dishes and tapas such as Gratin Manchegas Potatoes (baked with Spanish chorizo and pickled shitakes), Crispy Pork Tacos or Seafood Salad with Shrimp and Octopus with Avocado and Cotija Cheese.
Chef Michael Beary first opened the restaurant in 2004 after travelling around Oaxaca and learning about his traditional moles (which he also sells online). You will find Zocalo in the centre of Aspen, near Wagner Park.
Address: 999 18th St Ste. 107, Denver, CO 80202
4. Spring Cafe
Spring Café is an eco-friendly and vegetarian juice bar and restaurant that tries to be as environmentally friendly as possible. Enjoy innovative plant-based dishes such as Rise and Shine Tacos, Soba Noodle Salad, or Tempeh Reuben Avocado. Their fresh juices are as healthy as they are delicious!
Owner Sabrina Rudin opened a lovely restaurant in 2013 and hired Chef Blanche Salas to develop some superb culinary creations. Her husband, Michael Rudin, helped design and renovate the building as environmentally friendly as possible. You can find his restaurant on the eastern end of Aspen, near the Aspen Art Museum.
Address: 119 South Spring Street, Aspen, Colorado
5. Lunch Near Me: Meat & Cheese
Aspen's Meat & Cheese Restaurant and Farmhouse serves delicious country cuisine made from sustainable, local, seasonal produce. Drop by and try some Korean short ribs or Jamaican goat curry. Alternatively, you can go to the light and order a platter of meats and cheeses with something from their eclectic wine list, craft beer or craft cocktail.
Wendy Mitchell founded the Avalanche Cheese Company in 2008 and expanded it to include a Meat & Cheese restaurant and retail store in 2014. She hired chef David Wang to lead kitchen operations. Visit them at the Restaurant Row in downtown Aspen.
Address: 319 E. Hopkins Avenue, Aspen, Colorado
6. The White House Tavern
The White House Tavern is Aspen's favourite spot. It is an intimate and cosy bar that specializes in premium sandwiches. Dip your teeth into French au jours dip, a crispy chicken sandwich, or a Thai steak and noodle salad. The White House Tavern is located in the historic AG Sheppard House, built-in 1883 and one of the oldest structures in Aspen.
The tavern opened in 2013 and is operated by the Hillstone Restaurant Group. Chef Sheamus Feeley is busy in the restaurant's show kitchen. The White House Tavern is located between Wagner Park and Main Street.
Address: 302 East Hopkins Avenue, Aspen, Colorado
7. Where to Eat Near Me: J-Bar
The J-Bar, located in the historic Jerome Hotel in Aspen, serves small plates, bar food, beer and vintage-inspired cocktails in a lively yet informal atmosphere. Savour unique dishes such as Spicy Tuna (with crispy eggplant), Bison Patty Melt, or Slow-Roasted Cauliflower. Stop for Sunday brunch and try the Eggs in Purgatory.
Chef Rob Zack is the originator of the J-Bar culinary creations. The J-Bar has been a favourite for over a century, and like the hotel in which it is located, it has a rich history dating back to the mining era. The showroom is located in "Restaurant Row" in downtown Aspen.
Address: 330 East Main Street, Aspen, Colorado
8. Where to Eat Near Me: Ajax Tavern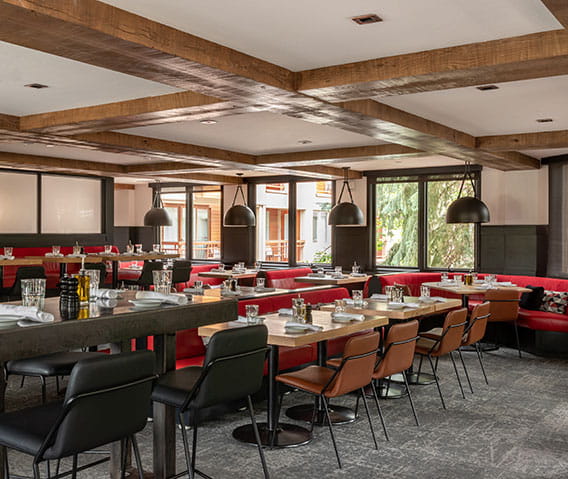 The Ajax Tavern serves traditional French-American cuisine in an elegant yet cozy setting at the 5-star Little Nell Hotel. Savor superbly prepared dishes such as Ajax Colorado Lamb Bolognese, Sailor Mussel, Duck Cassoulet, or something from a seafood bar. Don't miss the famous Ajax truffle fries.
Wines, craft beers, and craft cocktails are also offered. Chef JD Baldridge is responsible for the cooking at the Ajax Tavern. Enjoy the views, and people watch from the tavern hanger next to the Silver Queen Gondola.
Address: 685 East Durant Avenue, Aspen, Colorado
9. Where to Eat Near Me: Chefs Club by Food & Wine
Chefs Club by Food & Wine is a one-of-a-kind restaurant where the menu changes frequently, carefully prepared by emerging chefs from the national list of award-winning Best New Chefs. Enjoy unusual dishes such as grilled octopus, summer mezzaluna squash, or grilled marinated maple pork chop.
Be sure to save space for a divine dessert such as a Parmesan sponge cake. The current in-residence chefs at Chef's Club include Cara Stadler, Paul Qui, and Greg, and Gabrielle Denton. Chef's Club by FOOD & WINE can be found in the five-star hotel and resort of St. Regis in Aspen.
Address: 315 East Dean Street, Aspen, Colorado
10. La Creperie Du Village
La Creperie Du Village is a delightful Provencal-style restaurant that serves French Alpine food and is the city's only fondue restaurant.
Taste unique dishes such as Raclette, Nirvana (Thai green chicken curry with red pepper, eggplant, pumpkin, fresh basil, and coconut milk), or The French Connection (Moroccan lentil spice).
Born in Marseille, Raphael Derly, an avid skier, opened his restaurant in 2011. He hired chef Andreas Neufeld to lead the kitchen operations. Enjoy the charming atmosphere at La Creperie Du Village, situated in the heart of "Restaurant Row" in Aspen.
Address: 400 E. Hopkins Avenue, Aspen, Colorado
11. Romantic Restaurants in Aspen: Matsuhisa
Matsuhisa is one of Aspen's most famous sushi bars, serving excellent Japanese fusion cuisine mixed with Peruvian and Argentinian ingredients. Go to the Omakase tasting menu or try other great dishes such as wasabi scallops or spicy garlic sauce, black cod and miso, or Washugyu beef tataki.
A variety of sushi and sashimi are also offered, including sake, wines, cocktails, and beer. Born in Saitama, award-winning chef Nobu Matsuhisa and his family are the private owners of the restaurant, which opened in 1997.
This sophisticated restaurant is on Main Street, across from Hotel Jerome.
Address: 303 E. Main St., Aspen, Colorado
12. Steak House No. 316
Steak House No. 316 is a sophisticated New York-style steak and seafood restaurant. Enjoy wonderfully prepared dishes such as Oscar Lobster, Black Salmon Salmon, or 10 oz. American Kobe Flat Iron Steak. You can't miss the Branding Iron onion rings!
Restaurant owners Craig and Samantha Cordts-Pearce opened Steak HOUSE # 316 in 2010, renovating the historic mining cabin that previously housed their former Lulu Wilson's restaurant.
Steak HOUSE No. 316 was incredibly successful and even appeared on The Cooking Channel. You'll find him in the heart of Aspen on East Hopkins Avenue.
Address: 316 E. Hopkins Avenue, Aspen, Colorado
13. Breakfast Restaurants in Aspen: Aspen Over Easy Breakfast Club
The Aspen Over Easy Breakfast Club is a delightful breakfast and juice bar that is heavily committed to sustainability. You can't go wrong with their spectacular dishes, some of which include Banananutella Crepe, Fried Trout Sandwich, or Hillbilly Benny (Eggs Benedict with Smoked BBQ Pork and Caramelized Onions).
Try a refreshing blend of juices such as Adrenaline Rush or a craft cocktail. Bulgarian-born brothers Mladen and Ves Tsolov opened the restaurant in 2011 with the help of Aspen's CORE sustainability program.
After a night out in the city or before an intense day of skiing, visit Aspen Overeasy, located in the city center, right next to the iconic Jerome Hotel.
Address: 515 E Hopkins Ave, Aspen, CO 81611
14. Dinner Near Me: Silverpeak Grill
Silverpeak Grill serves some of the best food and affordable meals in town. You'll love their delicious dishes, such as the yellow tuna sandwich, kale and quinoa salad, exclusive Rolladillas, or Gringo tacos that change daily. Vegan and gluten-free options are also offered.
Veteran Aspen chef Troy Selby owns the Silverpeak Grill, which opened in 2010. Enjoy a casual, family atmosphere at the Silverpeak Grill, located two blocks from the gondola. It's the perfect place to stop for lunch on an adventurous day in Aspen.
Address: 520 East Cooper Avenue, Aspen, Colorado
Frequently Asked Questions: Best Restaurants in Aspen, Colorado
Does Aspen have good food?
Whether you are looking for breakfast, lunch, dinner, après ski, or a coffee shop, Aspen's growing restaurant scene has everything you're hungry for. These are the best places to eat in Aspen. The Food & Wine Classic in Aspen is at the top of every gourmand's to-do list.
Is Aspen open for dine in?
Aspen restaurants are open for dine-in service at 100% capacity. Takeout and delivery services are also available. Masks are required indoors when not actively eating or drinking.
Which is nicer Vail or Aspen?
If you prefer quiet and less crowded vacations, Aspen is the right place for you. However, if you love a more party-like atmosphere, Vail is the ultimate destination. Choosing between Aspen and Vail according to their crowds depends totally on your nature and what you personally prefer.
Is Aspen Colorado expensive to visit?
The average price of a 7-day trip to Aspen is $3,246 for a solo traveler, $5,830 for a couple, and $10,929 for a family of 4. Aspen hotels range from $97 to $417 per night with an average of $203, while most vacation rentals will cost $300 to $1000 per night for the entire home.
Is Aspen worth the money?
I can tell you first hand, Aspen is not worth the expense. In fact, it's fair to say it is one of the most overrated places I have ever visited. For a start, everything in Aspen is extremely expensive. You will pay many times more to ski the same slopes that you can get to from other mountain areas.
Is Park City better than Aspen?
Aspen is known for having a wealth of ski resorts. With so much choice, it can become overwhelming. Park City Resort offers more trails, and Deer Valley is one of only three ski-only resorts in the country. If you're traveling with a big group or you'd prefer more variety during your trip, book with Park City.
Why is Aspen so expensive?
It costs more money to supply Aspen with food, products, and fuel. Since it costs suppliers more money, it also costs buyers more money. Fuel costs, for example, are higher in Aspen than in other parts of Colorado. That's because it costs the truck more fuel to reach Aspen than it does other cities.
Related Searches:
Best Restaurants In Aspen With A View
Best Restaurants In Aspen 2022
Clark's Aspen
Pyramid Bistro Aspen
Opentable Aspen
Ellina Aspen Menu
Bosq Aspen
Italian Restaurants Aspen
15 Top-Rated Resorts in Destin, Florida: Best Time To Visit In 2022
16 Top-Rated Resorts in Texas, USA: Best Time To Visit In 2022
10 Best All-Inclusive Resorts In Tulum, Mexico: Best Time To Visit In 2022
12 Best Things to Do in Atlantic City, New Jersey In 2022