After living in Maui for a decade, I know which Maui activities are the best. Without further ado, discover the top 15 things every traveller should experience while travelling to Maui.
Like a mix of adventure, luxury, and relaxation, Maui is the quintessential tropical paradise. The sun always shines, it is hot all year round, the beaches are unspoiled, and there are adventures around every corner.
If you close your eyes and imagine paradise, you will imagine something that looks a lot like Maui. A dream island in the heart of the central Pacific, Maui is Hawaii's second-largest parcel of land but arguably the best option for beaches and ocean-related excitement.
That means snorkelling, surfing, paddling, and everything in between, but it can also mean sunbathing and sleeping on the sand if that's your thing. You are in paradise. After all, you can do whatever you want.
I promise you and you won't be left without doing amazing things on Maui. Maui, known as Valley Island, is the second-largest island in Hawaii. A saying about Maui, Maui No Ka Oi, translates to "Maui is number 1," and no one can deny it.
Maui has the seclusion of Kauai, the nightlife of Oahu, and the natural landscapes of the Big Island.
Where to Stay on Maui?
The best area to stay in Maui for a beach vacation is South Maui (Kihei or Wailea) or West Maui (Kaanapali or Napili). We spend most of our time in Kahana on the west coast. It's a quieter, more affordable area, a 10-minute drive north of the famous Kaanapali Beach.
We stayed in an apartment on Kahana Reef, which is an excellent value for beachfront accommodation. We saw whales and turtles from our lanai, and the sunsets were breathtaking.
The island is small enough to explore all of these Maui attractions from a single base. There is about an hour's drive between west and south Maui. However, if you have the time, it's worth spending a few nights in East Maui or the less-visited outback.
We loved Hana Kai Condos overlooking an empty black sand beach in Hana. Staying here for a night or two is the best way to experience the Road to Hana, as you can visit the busiest spots before the hikers arrive. Check out our Maui itinerary for more suggestions of places to stay in Maui.
Top 15 Best Things To Do In Maui, Hawaii
1. Drive On The Road To Hana
The trip to Hana is one of the top attractions on Maui, and it will probably be one of the most memorable activities you will enjoy on Maui. The road to Hana is a 52-mile winding road that takes you from Kahului to the town of Hana in East Maui.
Most people start their way to Hana on the north shore of Maui in the town of Paia. You have to refuel and bring snacks because that will be the last place to refuel until you reach the city of Hana.
There are tons of waterfalls along the way, you will have incredible views of the seascape, and you will pass some of the best and most exotic beaches Maui has to offer.
Although the trail is only 52 miles long, this is an all-day event. It is best to stay a night or two in Hana to have time to drive on the road to Hana, explore all the fun and adventures around Hana city, and be able to enjoy the Kipahulu side of Haleakala National Park.
This brings us to the next thing we can do in Maui.
Related: 10 Best Cheap Caribbean Vacations: Best Time To Visit In 2022
2. Explore Haleakala National Park
Haleakala is the Maui volcano and Haleakala National Park. It has two separate entrances, the Kipahulu district and the Summit. The Kipahulu District is located on the remote side of Maui, 10 miles beyond the town of Hana in East Maui.
Within this entrance are the Oheo Pools and the Pipiwai Trail, which will take you through a dreamy bamboo forest and up to the impressive Waimoku Falls, a 400-foot waterfall. Haleakala Summit is above the clouds at 10,000 feet, and one of the best ways to experience this is at sunrise. You must make a reservation in advance as it fills up quickly.
A good option is to stay in a Maui Airbnb near the crater, such as the Kula star dome. This will allow you to get an early start. Otherwise, it will take you a couple of hours to reach the top if you are from South or West Maui.
It's freezing at the top, so bundle up to watch the sunrise over the clouds at 10,000 feet. Another epic way to explore the top of Haleakala is by hiking through this dormant volcano. The driveway is approximately 12 miles long and takes 5-7 hours.
This is not a beginner hike, but it is worth it as you feel like you are walking on the surface of Mars.
3. Snorkel With Sea Turtles And Tropical Fish In The Molokini Crater
If you think Maui is beautiful from the shore, you must see it from under the water. The Molokini Crater is a volcanic crater crescent near the coast of South Maui.
Molokini Crater is Hawaii's only insular marine sanctuary, which means no fishing is allowed there. This guarantees the life of hundreds of different types of marine life, coral reefs, and sea turtles.
The only way to go to Molokini is on a snorkelling tour, with several companies offering daily snorkelling trips. Early morning trips are best as the trade winds pick up in the middle of the afternoon. They also include lunch. A fun activity that the whole family can enjoy.
4. Taste The Local Cuisine
Tasting and enjoying local cuisine while exploring a new culture is one of the best things about the trip. You cannot leave the island without trying some of these exotic dishes, such as:
Ahi Poke: It consists of a mixture of fresh yellowfin tuna caught in the islands, mixed and seasoned with sesame oil, soy sauce, yellow onion, green onion, ginger, and garlic.
Poi: It is one of the most iconic traditional Hawaiian staples. Poi is a thick paste-like substance from taro root steamed, baked, and mashed. Poi is an acquired taste and is generally served with savoury items such as kalua pork or Lomi Lomi.
Laulau: Salted butterfish, pork, and chicken wrapped in layers of taro leaves and ti leaves, then steamed. This is a typical dish served with steamed rice and macaroni salad.
Opakapaka: It is a Hawaiian pink snapper native to the Hawaiian Islands.
Haupia: It's Hawaiian for coconut. This is the best flavour to add to your shave.
Musubi Spam: Spam and nori-wrapped rice. A popular snack found everywhere.
5. Explore Exotic Beaches
With more than 120 miles of coastline, there is an ideal beach for everyone.
The best beaches for swimming: Airports, Mckenna and Wailea Beach and Polo Beach.
The best beaches for snorkeling: Kapalua Bay, Kam III, Napili Bay, Honolua Bay, Black Rock on Ka'anapali Beach, and Maluaka Beach, also known as a city of turtles.
The best surfing beaches: Ho'okipa, Honolua Bay, Koki Beach, and Launiupoko.
The best beaches for sunbathing: Big Beach, Hamoa Beach, Secrets, and Baldwin Beach.
The most exotic beaches: The black sand beach in Wai'anapanapa State Park and Hana Bay.
6. Watch the whale watching
Each year, the North Pacific humpback whales travel from the cold arctic temperatures of Alaska to the warm waters of Hawaii to give birth to their young.
Although this activity is seasonal, if you travel to Maui between November and May, do at least one whale watching; it will be worth it. Several boat companies offer whale-watching tours several times a day. Also, they provide snacks and drinks on most tours.
Not only can you get a closer look at the whales, but the naturalists onboard are very knowledgeable and teach you a lot about these majestic creatures. It is only some days that you have the opportunity to witness the magic and beauty of the largest mammal on the planet in its natural habitat.
Related: 11 Best Places to Visit in Colorado, USA: Top-Rated Attractions In 2023
7. Enjoy an evening at sunset
One of the best things to do in Maui is watch the sunset, and there is no better way to enjoy this activity than on a sunset cruise.
Similar to whale watching, several boat companies offer sunset tours. You will get an epic view of the sunset and breathtaking views of the West Maui Mountains and the beautiful coastline. A toast to the good life.
8. Swim Under A Waterfall
Swimming under a waterfall could be the ultimate Hawaiian fantasy. Several waterfalls in Maui have a pool underneath them, perfect for swimming.
You can find most of it on Maui's north shore, specifically on the road to Hana.
A famous waterfall for swimming is Twin Falls. It would be an excellent activity for the whole family, and it is a short 5-10 minute hike to reach the two flowing waterfalls. You better go early as this area tends to get crowded.
9. Learn To Surf
Hawaii is a surfing paradise, and while you won't be charging Jaws anytime soon, plenty of beginner spots on the island are perfect for surfing lessons.
Launiopoko, Breakwall, Ukemehame, and The Cove, to name a few. It is worth investing time and money in taking the time to do a lesson. You will learn the basic skills, safety, and etiquette essential in Hawaiian waters.
10. Explore the pristine north shore of Maui
If you want to slow down, I recommend going to Maui's North Shore. This part of the island is less crowded, less developed, and more relaxed than Lahaina and Kihei's famous spots.
Pass through the town of Paia in search of shops and delicious restaurants. Not only is it the unofficial gateway to the road to Hana, but it is here that you can see world-class surfing and windsurfing. Whether you are looking for relaxation or a tropical adventure, Maui has something to offer everyone.
11. Visit the Black Sand Beach at Wai'anapanapa State Park
Wai'anapanapa State Park is a Maui highlight and one of the most popular stops on Hana Road. Get there early in the morning to avoid the crowds.
After staying in Hana, we visited the park at 8.30 am. M. To enjoy the beautiful light, we want an hour walking along the impressive black sand beach of Pa'iloa and the coastal paths, passing through a sea cave and a nostril. You can take long walks along the lava coast.
Reservations are now required for the park; book on the Go Wai'anapanapa website up to two weeks in advance. You must purchase an entrance ticket ($5 per person) and a parking voucher ($10 per vehicle). Camping here is an affordable way to stay on this side of the island; permits are required.
12. Hike Through Bamboo on the Pipiwai Trail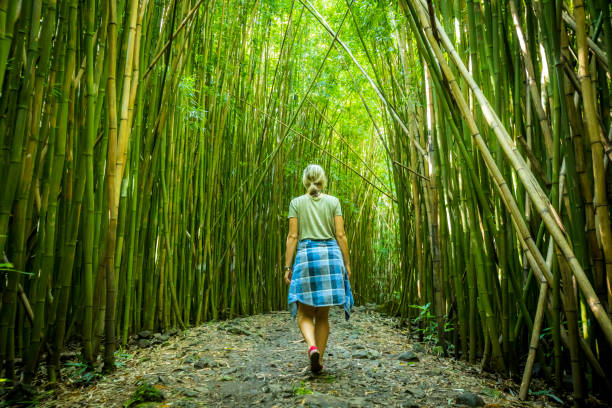 One of the best things to do on Maui is to hike the Pipiwai Trail through the rainforest and impressive bamboo forest to the spectacular 400-foot Waimoku Falls. The round-trip hike is four miles and took us about two hours. We didn't find it too challenging, but there were uneven, muddy, and uphill sections.
Wear decent shoes (mountain sandals were fine for us), and bring bug spray and plenty of water; it's hot and humid. If you don't have time for the whole trail, you can reach the beautiful bamboo forest after a 30-minute walk.
The Pipiwai Trail is located in the Kipahulu section of Haleakalā National Park. Admission is $ 30 per vehicle (pay by credit card at the self-checkout machine), but it is valid for three days, so you can also use it for the Haleakalā Summit.
This is usually the last stop on Road to Hana tours (it passes 35 minutes past Hana), but it's worth getting there early after spending the night in Hana to avoid the crowds. It is open from 9:00 AM to 5:00 PM.
You can also visit the 'Ohio Pools (also known as the Seven Holy Pools) near the trailhead.
13. Snorkel the Molokini Crater
Diving in the extinct volcanic crater of Molokini is a must-do on Maui for many visitors.
It is a unique place with excellent marine life on a coral reef – we saw parrotfish, pipefish, flag fish, and a white-tip reef shark. We even heard haunting whale songs when we were underwater. Most trips combine the crater with snorkelling in Turtle Town to see Hawaiian green sea turtles (honu). If you are lucky, you will also be able to see dolphins and whales.
The Molokini crater attracts up to 1000 visitors a day. To get there earlier than most boats, we visited Redline Rafting ($199), departing at 7 am with a maximum of 20 people.
We enjoyed our ride, but their rafts are pretty bumpy and wet, and there's no bathroom. If you prefer a bigger, more stable boat, check out this Molokini snorkelling tour with Malolo Molokini Snorkeling Charters ($120).
The trip includes breakfast and lunch, and the catamaran has toilets, a freshwater shower, an easy ladder to the water, and plenty of shade. Boats to Molokini Crater depart from Kihei or Maalaea Harbor. Bad weather can cause cancellations, so schedule this trip in advance.
14. Relax in the Scenic Makena Cove
Tucked away on the south shore of Maui is the little wonder called Makena Cove, also known as Secret Beach and Paako Cove. Despite the name, Secret Beach is so
popular because it is simply spectacular with the black lava rocks, white sand, crystal clear water, and swaying palm trees to achieve that perfect view of Hawaii.
The ideal time to visit is sunset, when it is illuminated with a fiery light. With the islands of Kahoolawe and Molokini on the horizon, it's hard to find a more impressive scene.
During the day, weather and waves permit. You can even try snorkelling amid beautiful reef formations, colourful tropical fish, and vibrant sea beds.
However, only enter the water if conditions seem safe, as there are no lifeguards. Make sure to pack everything you might need, including food and water, as there are no facilities, bars, or restaurants within walking distance.
Drive along the rock walls in the upscale neighbourhood and look for the "beach access" sign to get to Makena Cove. The path is a narrow opening between two volcanic rock walls. There is no designated parking, so give yourself plenty of time when you come to the beach.
Related: 12 Beautiful Pink Sand Beaches Around the World
15. Hop the Kamaole Beaches in Kih
A short drive up the coast along South Kihei Road will take you to the most popular stunning beaches known as Kamaole Beaches One to Three (Kam I to III). The word Kamaole in Hawaiian means barren, for the once dry shores of southern Maui.
Today you will find luxury resorts, shopping centres, restaurants for the sun and beautiful beaches. The three beaches line up next to each other, separated by rocky outcrops great for snorkelling and watching tropical fish.
Mornings at Kamaole are popular due to the calm winds and swell, and conditions are better for snorkelling. The trade winds and surf pick up a notch in the afternoon, most popular with body surfers and boogie boarders.
All Kamaole beaches offer parking, picnic areas, restrooms and showers, and lifeguards to patrol area safety.
Frequently Asked Questions: Best Things To Do In Maui
What is Maui best known for?
Maui, known as "The Valley Isle," is the second-largest Hawaiian island. The island is beloved for its world-famous beaches, the sacred Iao Valley, views of migrating humpback whales (during winter months), farm-to-table cuisine and the magnificent sunrise and sunset from Haleakala.
Are 2 days in Maui enough?
Like anywhere, the more time you spend on Maui, the more you can see. I recommend at least one week to experience all that Maui offers. You can still get a flavour of Maui even if you visit for one day. However, as a minimum, plan 3 to 5 days in Maui.
Are 7 days in Maui too long?
According to tourism statistics, the typical stay on Maui is about eight days (pre-covid), the most of any Hawaiian Island. While you can explore the island faster than that, a week would set a proper pace.
What is Maui known for in Moana?
Maui is the deuteragonist of Disney's 2016 animated feature film, Moana. He is a boisterous demigod of South Pacific legend. With the power of his giant, magical fish hook, Maui serves as the audacious guardian of humanity.
Why is Maui called Maui?
Maui takes its name from a Polynesian demigod. It was created by two volcanoes, Puu Kukui and Haleakala, which constitute east and west peninsulas connected by a 7-mile- (11-km-) wide valley-like isthmus that has earned Maui the nickname of the "valley isle." The island was first settled by Polynesians c. ad 700.
Are 5 days enough for Maui?
More than visiting Maui for 5 days is required, but it is a reasonable time to see the highlights or for a first trip. There is an abundance of things to do in Maui, as it truly is a Hawaiian treasure of an island. You will most definitely never get bored, and you will see the most beautiful sights.
How many days should you spend on each Hawaiian island?
If you want a quick rule of thumb, to see and experience each island's major highlights, you will need at least four days for Molokai and Lanai and five days minimum for Oahu, Maui, Kauai and Hawaii's Big Island. Day trips can be your friend when time is the enemy.
Related Searches:
All-inclusive Caribbean Vacation Packages With Airfare
Cheap Caribbean All-inclusive
Apple Vacations
Caribbean Vacation Packages 2023
Cheap Caribbean Vacations From Florida
Cheap Caribbean Promo Code
Cheap Caribbean Customer Service
Cheap Caribbean Cruises